In 2008, John and Ginger Holbrook made the decision to move to Danville. John was working here in town and wished to shorten his commute. The couple knew they wanted a historic home, and so their search began. They actually looked at several houses before viewing the one they would eventually purchase at 904 Main Street. The house, with its rotting pillars and rundown appearance, seemed to suggested a great deal more work than they were willing to take on. When Ginger saw photos of the interior, however, she realized it was exactly what they needed. And while the exterior did need some repairs, previous owners had made enough updates and improvements, particularly to the major systems of the house, that the trade-off was worth it.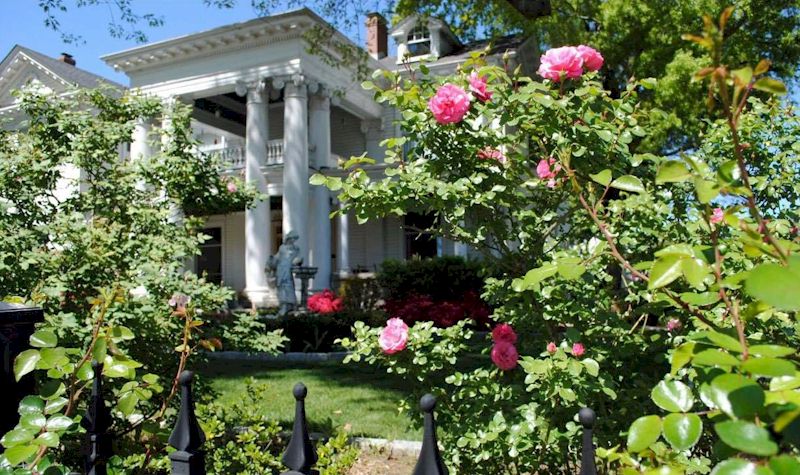 Ginger, a native of Martinsville, and her husband John, who came to the area from Florida, had six children between them, including two from John's and three from Ginger's previous marriages. Together, they have one daughter. In doing research of the house, it was fascinating to them that several of the families who had lived in the house previously also had six children.
The house was built in 1860 for the wealthy merchant E.J. Bell, but only eight years after its completion, Bell went bankrupt. It was then purchased at auction by William J. Peake of New York who nearly immediately resold the house to John R. Pace. The Paces, along with their six children, lived here for nearly twenty years.
In 1898 H. Lee Boatwright bought the house and relocated to the address from his home at 136 Chestnut Street with his wife and five children. Another son would join them, making six children in all. Other changes were afoot as well. Boatwright, a successful tobacconist, made some dramatic alterations to the façade of the house, adding Palladian windows, the large portico and ionic columned porch that currently frames the entry, and a wing that enlarged the house significantly. These alterations transformed the house from one of Victorian Italianate revivalism to one of imposing neo-classicism. The style, embellished with Beaux art details, followed a rising trend and proclaimed for the world to see that Mr. Boatwright was a man of means. The Boatwrights remained in the house until 1967 when their daughter, Alice, sold the home to Judge Archibald Murphey Aiken and his wife. Judge Aiken died in 1971 and his wife remained until 1979. The house changed hands several more times before the Holbrooks took ownership.
While their move to Danville was meant to make their commute shorter, John and Ginger ended up taking over the family business. Carmela's Italian restaurant at 200 Turner Drive in Reidsville has been in Ginger's family for thirty years. They love the business, but they do wish they had more time to work on their fixer upper.
Of their home, Ginger says, "It's a labor of love! And not for the weak! You will never find better bones in a house, though! They simply don't make them like this anymore."