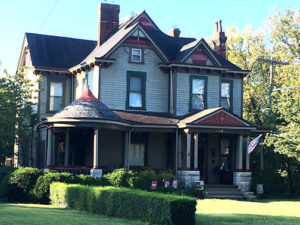 Lewis and Mary Dumont met at a running club meeting in Greensboro where they were both living at the time.
Mary, who had grown up in a historic home and had watched the countless hours her parents had spent stripping paint and wallpaper, thought she'd much rather live in a condo, or at least something newer that required less work. When it became clear, however, that Lewis, a collector of antiques, was someone she wanted to spend her life with, she thought perhaps it would be appropriate to find a house that suited his collection. Their search started in Danville when Lewis was transferred to Hurt. Mary maintained her job in Greensboro, and so Danville was located conveniently in the middle.
The couple first came across the Montague house at 249 West Main Street in a real estate magazine. An advertisement described the house as a "governor's mansion" and was accompanied with a price that suggested it was perhaps a money pit. Intrigued nevertheless, they came to Danville to see it. Upon viewing the house, they found it surprising livable. Previous owners had done a great deal of renovating already, converting the house from its previous multi-family state to a single-family home once again.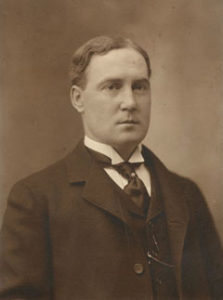 The house was built by and Andrew Jackson Montague in 1891, and the Dumonts have been stewards of this historic landmark for thirty-one years. Their children were born and grew up here, and Danville, despite all odds, has truly become their home. "We're not sure if we would have stayed had we not invested so much in the house," Mary said. They were both used to living in larger cities where there was a little more culture and nightlife. But Danville makes sense in many ways.
"This is a really economical place to live," Lewis says. "We can use this as a base with all our traveling, which we can afford to do. If we lived in a big city where the cost of living is so much higher, that wouldn't be possible."
Their advice to others considering taking on a restoration project: "Both parties have to have the passion for renovation in order to put in the time and money to see it through. It's a long-term project so you really have to love it. But there's nothing like an old house with the tall ceilings and big rooms."
It's clear that the Dumonts do have the passion for the work. Originally, they had covered the walls in period papers, but in recent years they've chosen warm paint colors that are more soothing. Mary spent years stripping all the wood in the house, from the impressive foyer staircase to the gorgeous mantelpieces. Even the front porch floor is stained. And with their collection of unique antiques and historic memorabilia, they have truly made it a show place. But they are also quick to honor those who began the fight to preserve these amazing homes, pioneers like Gary Grant, Susan Stillwell, and Rick Barker. We think it can safely be said that they are pioneers themselves, and we are grateful for their dedication in preserving this amazing piece of Danville history.