Coincidentally we have written a great deal about the family of Nathaniel Talley without understanding how those stories should be linked together.
Nathaniel Talley, born in 1804, was a farmer who lived in Mecklenburg County, near Clarkesville, fifty-some miles east of Danville.  He and his wife Elizabeth Mosby Haskins had five children – Daniel Doak Talley, Anna Page Talley, Alice Talley, Billey Haskins Talley, and Williamson Talley.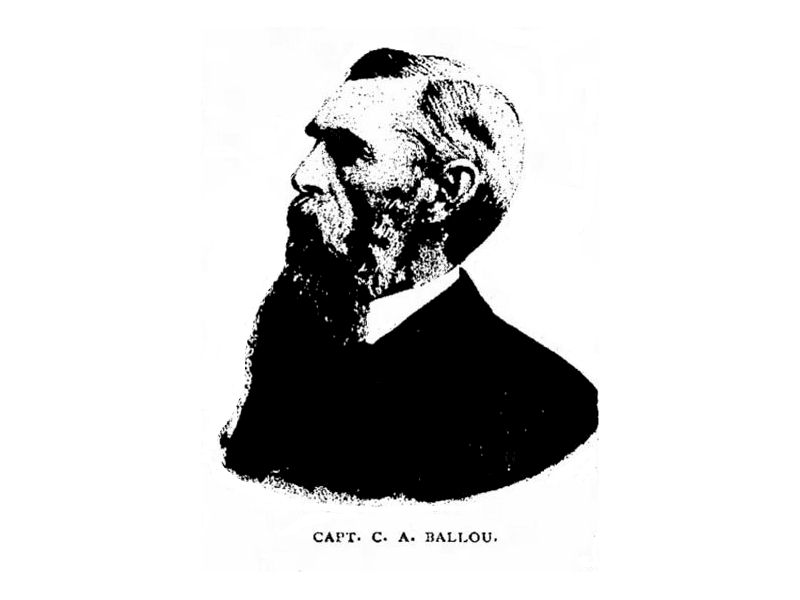 In January 1868, eldest daughter Anna married Charles Anderson Ballou.  Ballou, at that time, served as a civil engineer in the railroad business.  It may have been that connection to the railroads that caused the Talley and Ballou families to move to Danville.  They are shown living together in the 1870 census – Talley with his younger children and Ballou with children from an earlier marriage plus a new little girl named Nathalie.  Nathaniel Talley was listed as treasurer of a railroad.  The name of that road is unknown.
We've written about Charles Ballou and his wife Anna Talley before.  Charles became Danville's City Engineer in 1874 – a post he held for 40 years.  Ballou Park is named for him.  Charles and Anna Ballou honored her father by naming the youngest of their children Nathanial Talley Ballou.  Talley Ballou, as he was called, became a dentist and later the first Director of Mouth Hygiene of the Virginia Department of Health.  Dr. N. Talley Ballou held that position until his death in 1947.
One of Nathaniel Talley's sons, Billey Haskins Talley, married May (later known as Mae) Patrick.  While the date of their marriage is unknown, they had a son Hebert Patrick Talley in 1876.  Mae divorced Billey in 1886 – unusual and somewhat scandalous at the time.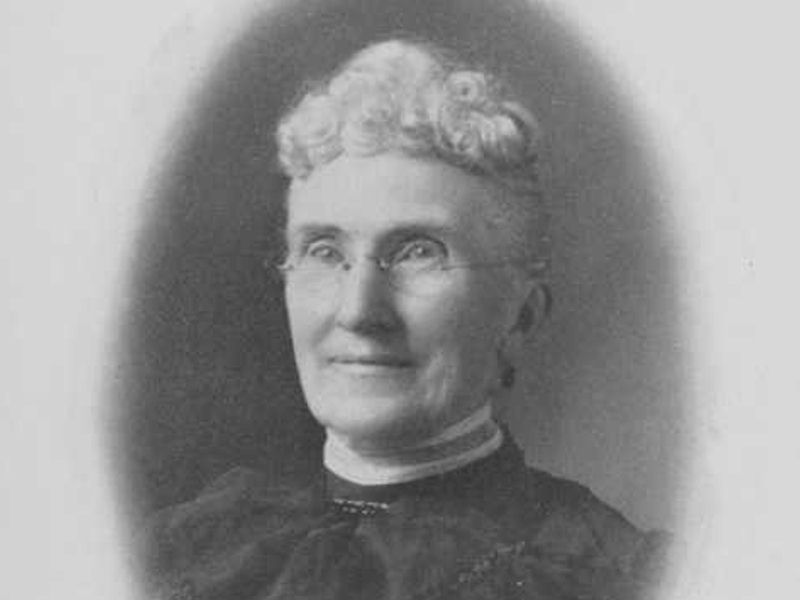 We've also written about Mae's mother, Laura Crump Patrick.  She was best known for her work in creating Danville's Home for the Sick – first on Tazewell Alley and then on Jefferson Avenue.  The Home for the Sick was the forerunner of the Danville's General Hospital which closed with the construction of Memorial Hospital – now SOVAH Health.
Mae Patrick Talley's paternal aunt was Jane Erwin Patrick Sutherlin – wife of Major William T. Sutherlin and hostess to Jefferson Davis during the time when Danville was the last capitol in 1865.  William and Jane Sutherlin gave Mae a property on Chestnut Street in 1889 to build a home for herself and her son Herbert.  Unusual for a woman at the time, she commissioned a Queen Anne shingle-style home now know as the Talley House at 126 Chestnut Street.  During her ten years there she operated a Conservatory of Music offering voice training to aspiring singers and called herself Madame Talley.
Mae sold her Old West End home in 1899 and relocated to East Franklin Street in Richmond where she again offered vocal and instrumental training.  Her son Herbert was in the army at the time, perhaps prompting her move.
Herbert Talley was stationed in Buffalo in 1903 and Mae soon followed offering music lessons in that city as well.  In 1904, Hebert enlisted in the Marine Corps where he remained until 1910.  During that time, Mae moved to Shreveport, Louisiana where she again opened a Conservatory of Music.  In 1909, Mae toured with one of her students, Miss Lurline Graham, including stops in New York City, Baltimore, Washington, and Danville.
In Shreveport, she sometimes hyphenated her name becoming Madame Mae Patrick-Talley.  She presented herself as a widow even though Billey Talley outlived her by some 13 years.  Son Hebert Patrick Talley joined here there on Louisiana Street by 1911.
On February 27, 1913, Herbert Patrick Talley died in their Louisiana Street home.  Newspapers of the time do not report a cause of death.  The Shreveport Times reported that there was a deep devotion between Madame Talley and her only child who gave his mother, "a sincere love and courtly attention. … He had wandered in foreign lands but always returned to the mother love awaiting him."
Mae began carrying her son's body to Danville the next day.  His funeral was held at the home of her mother and sister, Laura Crump Patrick and Anne Higgins, on March 2, 1913.  Herbert, the grandson of Nathaniel Talley, was interred at Green Hill.  His mother Mae could not be consoled.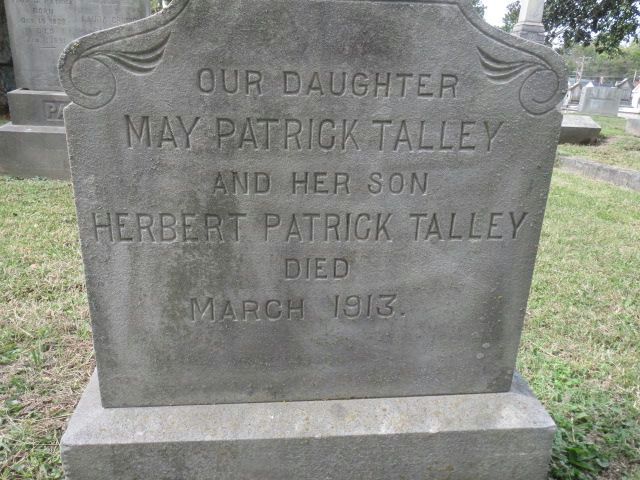 On March 6, 1913, Madame Mae Patrick Talley committed suicide in the same home by taking carbolic acid.  The use of carbolic acid was prevalent at the time because it was easily obtainable and often present in the home to eradicate dirt and disease.  Mae was buried next to her son on March 11, 1913.  They share a common headstone.