According to the oldest city directories, the home at 1026 Main Street was occupied by the George Washington Swain family in 1881.  George was born in Danville in 1846 or 1847, the son of J. G. and Emily A. Swain.
Swain was a tobacconist and a partner with John N. Wyllie in Swain, Wyllie & Co.  The company was located variously over the years on Spring Street, Loyal Street, and Linn Street (original spelling).   According to the Richmond Dispatch the Loyal Street building and several of its neighbors, including a stable, burned on November 22, 1883.  While Swain's building was insured for $500, this was not sufficient to cover the loss.
As was particularly true of successful men in Danville, George married the younger Mary E. Ferguson from nearby Cascade – eight or nine years his junior – in 1873.  George and Mary lived on Green Street pending completion of their Main Street home.  They had at least six children.
Upon the passing of Mary Ferguson Swain in 1895, George married an even younger Mary in 1898 – the widow Mary Weston Couch Haskins, 23 years his junior.  This second Mary Swain ultimately reached the age of 99 years.  George Washington Swain, who passed in 1919, and both Mary Swains rest in Danville's Green Hill Cemetery.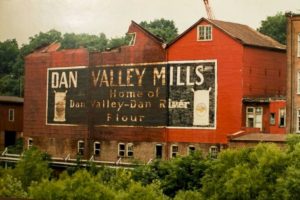 The Swain home was soon acquired by William Bethel Hill.  Born in Greensboro in 1871, he came to Danville with his parents at an early age.  His father and James L. Pritchett were the 1893 organizers of the Dan Valley Mills on the north bank of the Dan River.  Upon his father's passing, William became secretary-treasurer of the company and later vice president.  He was the owner of Hill Sales Co. on South Union Street, a grain and feed store.  He also served as vice president of Piedmont Mills in Lynchburg when that firm was acquired by Dan Valley Mills.  In 1923, he organized the Hill Flour Mills in Greensboro with his brother Roland.
William Hill was married to Elizabeth "Bessie" Miller of Goldsboro.  They had two children, Mildred Hill Riddle and William B. Hill, Jr.
In later years, he organized a brokerage called Vansco Grain and Feed Company.   William Bethel Hill remained the manager of that firm and a resident of 1026 Main Street until his passing at age 81 in 1952.
The home was later owned and occupied by Albert P. Maurakis, a life insurance underwriter.  The building was in apartments by the 1970s, later returning to single-family status.
The home at 1026 Main has a tile roof in the Spanish style, somewhat unusual for Danville.  Recently, present owner William Wesley Hardin, IV, has made numerous renovations including an updated kitchen with new oak floors, walnut butcher block counters, high end appliances, and an instant hot water system.