Charles M. Sublett came to Danville from Lynchburg in 1858. He served in the Civil War, but the experience left him somewhat rattled. His health suffered as a consequence. Nonetheless, he prospered as a businessman, setting up shop in the hardware firm of Hickey & Sublett.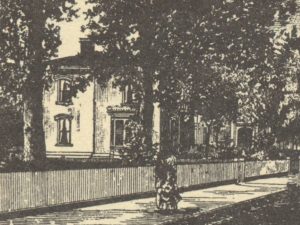 In 1866 he married Jennie Cosby, daughter of fellow hardware businessman C. M. Cosby. As a wedding gift, Charles built his wife a fine home at 878 Main Street. The original structure was not the high Gothic Victorian we see today, but a symmetrical four-over-four style sketched at right. Charles lived to see it built but died two years later in 1876.
In 1878, Jennie remarried Edward Howe Miller.  Born in Franklin, Massachusetts, he came to Danville in 1877 to work for Jennie's father. Mr. Miller eventually decided to try his hand in the booming tobacco trade and formed the partnership of Gravely & Miller. He retired from the tobacco business in 1901 but continued to invest in real estate.  He had vast holdings throughout the city, including warehouses on Craighead Street.
It was Mr. Miller who, in 1885 engaged contractor Charles Orchard to begin a series of vast and elaborate renovations to the house, transforming it completely.  The earliest known photo after those renovations is shown at top.  (Shortly thereafter, Jennie's brother, John Hamilton Cosby, a tobacconist, built another fine home nearby at 936 Main Street.)
Jennie Cosby Sublett Miller died in 1917 and Mr. Miller followed her ten years later, leaving the house to their only son, Edward Howe Miller, Jr., a doctor and surgeon.
In 1913, Edward Jr., married Anne "Elizabeth" Noell, daughter of tobacconist Charles D. Noell. They took their honeymoon in Europe, and she returned alone while he remained in Vienna, and then Berlin, to receive some advanced training. Shortly after, the First World War broke out, and he volunteered to serve the University of Virginia's base hospital in France, where he was highly honored as a surgeon. In the meantime, his wife kept her home open to those who were likewise awaiting the return of their husband servicemen. Upon his return, Dr. Miller converted a portion of the house to his office so he could practice from home.
In 1940, Elizabeth became ill. Her husband took her to Florida in the hopes that a change of climate would help her. It did not and they returned home and sought help at Memorial Hospital. She remained for two weeks, while the area's leading physicians gathered from Duke, University Hospital in Charlottesville, Johns Hopkins, and Richmond to find a cause, but no answer was found. She passed away on April 3, 1940. Dr. Miller survived his wife by 21 years, passing in 1961.
Dr. Edward Howe Miller, Jr., left one son, Edward Howe III.  He inherited the house, and with his wife Louise worked on updating the house and restoring it.  Upon his death in 1997, the house had been in the family for 123 years. It went up for auction in 2000 and was purchased by Tom Belles and Carla Minosh.  They have lovingly and painstakingly restored the home to its opulent late, Victorian glory, and Carla has chronicled their efforts and adventures.  The Sublett-Miller House is shown in a recent photo below.