When Sonja Ingram (at left above) first considered moving back home, it was not to live in town. Danville was struggling at the time, depressed, dingy, and little to do.  And so a country house in her native Pittsylvania county, seemed in order, away from the city and people, a quiet place where she and her wife Valerie could raise bees and chickens and their son Victor.  As a representative of Preservation Virginia, she needed an office. The organization was flexible, and when she suggested nearby Danville it made a certain amount of sense.  The organization kept a list of endangered historic sites and buildings and the entire city of Danville was on that list.
As time went on, and the responsibilities of a farm began to feel too great, Val thought it might be time to move into town.  Their son went to school, took Karate lessons, and visited friends in town.  Sonja's office was here. It just made sense.  And so they began looking.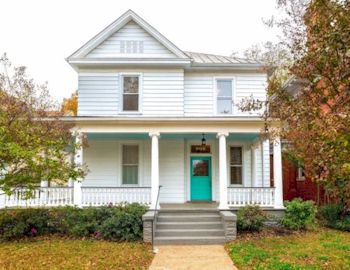 Although the house on Holbrook was a little larger than what they were looking for, they were blown away upon first seeing it. The previous owners, Stephen and Susan Wilson did an extraordinary job restoring the house, while still making sure it was convenient for the modern family.  The house was spacious and filled with natural light and embellished with those details that are unique to historic homes.
The house was built in 1909 for William N. Brown, the U.S. Postmaster in Danville, an appointment that came directly (and twice) from President Woodrow Wilson.  He also served one term in the Virginia State legislature before his appointment as postmaster.
While Sonja and Val's search initially included homes in Forest Hills, in the end it was the Old West End that drew them.  Centrally located, the neighborhood is within walking distance of Victor's Karate studio and school, as well as shopping and the quickly multiplying amenities offered in the River District.
The neighborhood, too, holds such a sense of community.  Sonja and Val recall that, upon moving into the house, they needed some help, and it was quickly and bountifully offered.  For those, especially, who might be considering something that needs significantly more work than the Ingram's house does, Val observed that there is an already established network of knowledgeable people who are either highly skilled (and trustworthy) or who can recommend people who are.  Neighbors are quick to lend a hand, or at the very least a lengthy list of reputable references.
As a friend of Sonja and Val's remarked, Danville is the last place in all of Virginia where you can buy a big, beautiful, historic house for so reasonable a price as they (and many of us have) paid.  It won't last, which is both a good thing and a bad thing, depending on where you stand in the transaction.  Exciting things are happening here, and it shows in the hearts and faces of those we call our neighbors.  Welcome Val and Sonja!