It is believed that the home at 876 Pine Street was built by John T. Watson who owned several lots of land on Pine Street, as the 1877 Beers map shows. His own large home was situated on the triangular lot at the intersection of Pine and Chestnut Streets. When he sold the plot of land now addressed as 876 Pine in 1878, the sale price was a mere $615.00, suggesting that no house had yet been built upon it.
The purchaser of the property was Smithson Higginbotham Holland of S.H. Holland & Co. a leaf tobacco warehouse. Presumably Mr. Holland purchased the house either for or on behalf of his twice-widowed relation Julia Holland. (A number of Holland cousins moved to Danville from Franklin County.) By 1880, she was living on the street as well, a widow with her five sons, a boarder, and one female servant.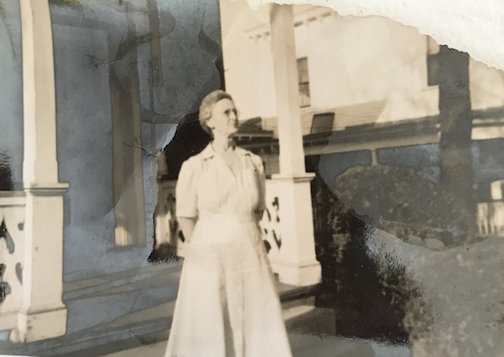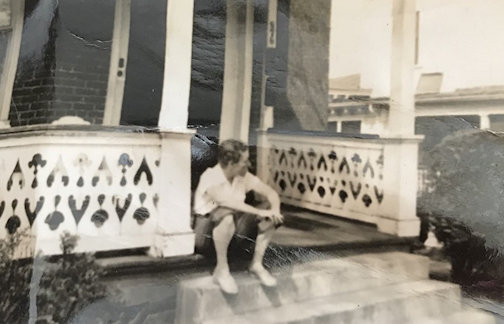 (Photos in the Newman possession of former tenants who inhabited the home in the 1940's.)
Julia was born in 1934 in Franklin County, Virginia. In 1854 she married James Ebenezer Holland, her first cousin once removed (they were actually twice cousins, both on her mother's and her father's side). In the three short years they were married, they had two boys, both of whom died as infants. In 1857, Mr. Holland passed away, as well.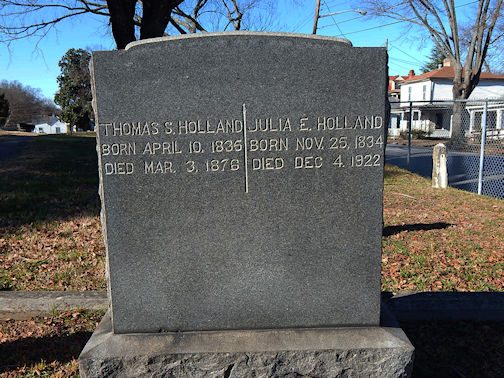 Seven years later, in 1864, Julia married another cousin, Thomas Smithson Holland. The couple had five sons before he passed away in 1876. And so it makes sense that, in 1878, wealthy tobacconist S.H. Holland would purchase for his cousin, and the wife of his nephew, a home for her and her children.
In 1900, four of her five sons were still living with her, along with the young wives of Charles Edward (32), Asa Thomas (30), and Harry Walker (24). Eldest son, Pomp, had gone off to engage in enterprises in Norfolk, then North and South Carolina. Though he is not mentioned in her obituary of December 3, 1922, he certainly survived her, for he shows up in newspaper articles and advertisements in the years following her death. The four sons who remained at home worked the tobacco factories of their cousin-uncle, Mr. S.H. Holland.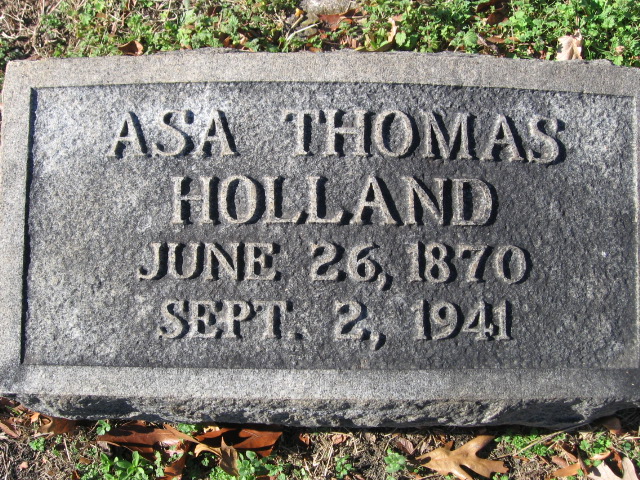 The house remained in the Holland family for forty-six years, until 1924 when Asa put the house up as collateral for a debt. The debt defaulted, and the house went up for auction to be purchased by Fred W. Brown who, by 1927, was vice-president of the Piedmont Warehouse on Lynn and Loyal Streets. That position sent him as a representative on travelling expeditions, and so, in 1930, he sought lodgers to whom he would rent the house out in his absence. Two years later he sold the house. It changed hands a couple more times before being purchased by Alma P. Farley in 1940 who rented the home to Rosa Johnston a fifty-six year-old widow who lived in the home with her three daughters, all of whom were employed in the cotton mill. Her 13 year-old nephew also lived with her (possibly pictured above?)
Rosa was born Rosa Anna Gray in 1882 in Pittsylvania County, Virginia. Her husband, William Edward Johnston, passed away in 1932. The couple had six children together.
In 1957 the home's owner, Alma Farley, passed away, and she willed the Pine Street property to her son, Robert F. Farley. The home was sold several more times over the next fifteen years until in 1978, when the property was purchased by Jack T. and Donna Long who maintained the home as rental property, having converted it to a duplex, before they sold it to the present owners, Reginald and Kathy Newman in 2000. See the companion article for more information on the new and present owners.