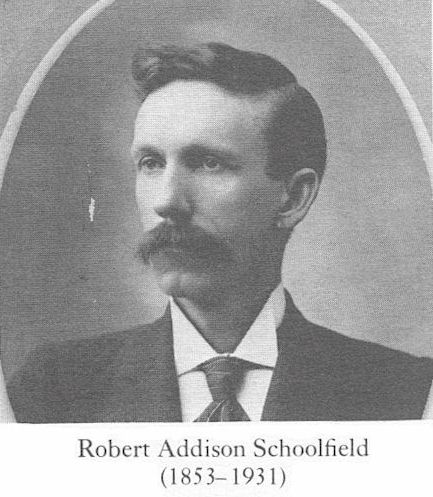 "R.A." to his business associated and "Addy" to his family, he was the youngest of the twelve Henry County Schoolfield children. He visited Danville in 1874, staying with his newly-arrived brother Jim.
In 1880 at age 27, he took a trip to Columbus, Georgia, with hope of relieving his neuralgia (intermittent but intense nerve pain). While there, he visited Eagle and Phoenix Mills – one of the earliest textile mills in the South. As a result, he encouraged his brothers John and Jim and three other Danville businessmen to form a textile manufacturing company.  This was done in 1882 when Riverside Cotton Mills was founded.
Except for Addy, these men were already established in Danville and engaged in other businesses.  Thus Addy, was retained to manage their new enterprise – a task he continued for more than 36 years, initially as Secretary-Treasurer, but was in fact the man in charge.
When R.A. Schoolfield first came to Danville, he resided in the Arlington Hotel. That same plot became the Hotel Burton in 1890 and then the Downtowner Motor Inn in 1962.  Today, that empty lot displays the "HOME" portion of the old Home of Dan River Fabrics sign.

Like his brothers, Addy married one of the France sisters – Annie Redd France – in 1885.  They had three children but two passed in childhood. Only daughter Bland saw adulthood.  Annie herself passed in 1897.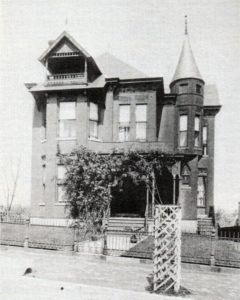 In the same year as his marriage, he purchased a lot across West Main Street from Mount Vernon Methodist Church and commissioned R.B. Graham & Bro. to build his first house (at left) in high Victorian style.  It was completed in 1890, but it did not suit him well.  In 1910, it was razed to make room for the larger Spanish-style house that remains today at 1124 West Main Street.
Addy married again in 1899. His new wife, Isabel "Belle" Vass, was a niece-by-marriage to his first wife. She and Addy had one child who passed at the age of two. Sadly, Belle herself passed in 1907. Both of Addy's wives died at the age of 37 and both had recently lost a child.
Undeterred, Addy married third time in 1909 – to a widow with two children. She, Sadie Vass Van Wagenen, was a younger sister of his second wife and another niece-by-marriage to his first wife. Her two children, Elizabeth and Frederick, referred to their stepfather as "Uncle Add."
In addition to commissioning the mill's first building (now Spectrum Medical), one of Addy's first acts was to bring in an experienced superintendent from the mills in Columbus. The first yarn was spun on April 1, 1883 and the first looms put to use soon after. From that time, growth was nearly exponential. By 1903, the mill village name Schoolfield was under construction west of the then city limits.
In 1918, Addy suggested that he resign as President and become Chairman of the Board. He continued in this role, sometimes at odds with the company's President, until January 1930.
Robert Addison Schoolfield passed in 1931 after a brief bout with pneumonia.