Planning a garden event can be tricky.  How do you comfortably host a hundred people for a wedding ceremony and reception?  And what do you do if it rains?  Rain dates don't work when people are travelling from all over the country.
Saturday, September 22, dawned like any other, but the weather forecast was not good.  In fact, by the end of the day, some parts of Danville received six inches or more of rain.  Streets near the river were flooded.
No problem for our resourceful couple.  The entire event was moved inside to an Old West End mansion.  Rooms were cleared of furniture and carpeting, a bar created in the sunroom, and the wedding cake perched in the dining room along with a sumptuous buffet dinner.
Instead of appearing on a garden path as planned, the bride, beautifully dressed in the style of her native Austria, descended to the ceremony on an 1895 elevator.  She was escorted by Captain Jeff Hall of Renton, Washington.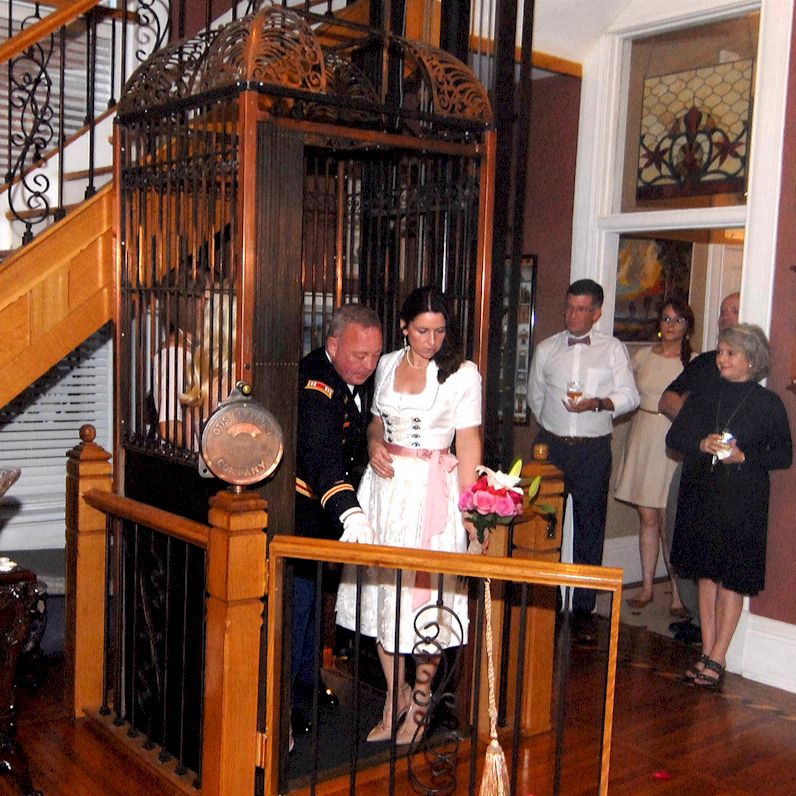 From the start, live music, called the Wedding March written and played by Nationally renowned Clawhammer Banjo player Adam Hurt and Beth Hartness on guitar filled the Victorian Home.
The wedding ceremony was simple, elegant and capped off with the newlyweds walking under a saber arch.  The saber arch is a military wedding tradition saluting the married couple.
---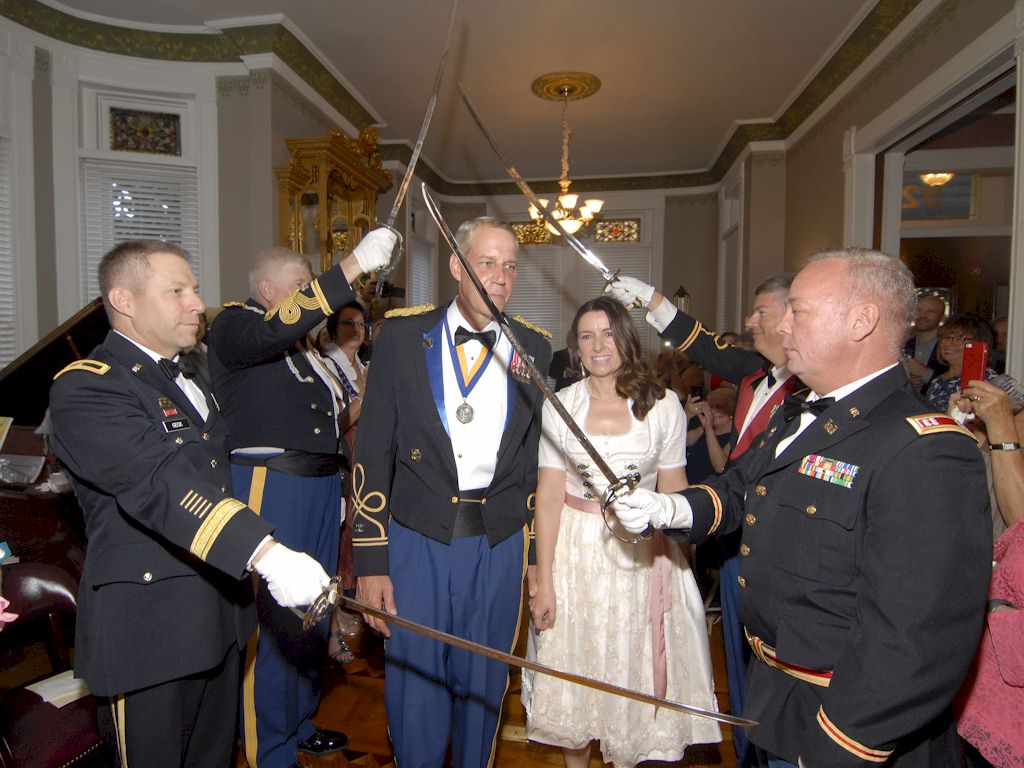 Bride Barbara Brande is a nurse employed by SOVAH Health.  Groom Lawrence W. Meder is a retired Army Colonel.  His second career is as a restoration specialist for everything from furniture to entire homes.  He also serves as Vice Chair of the Board for Friends of the Old West End.
The entire wedding party is shown below.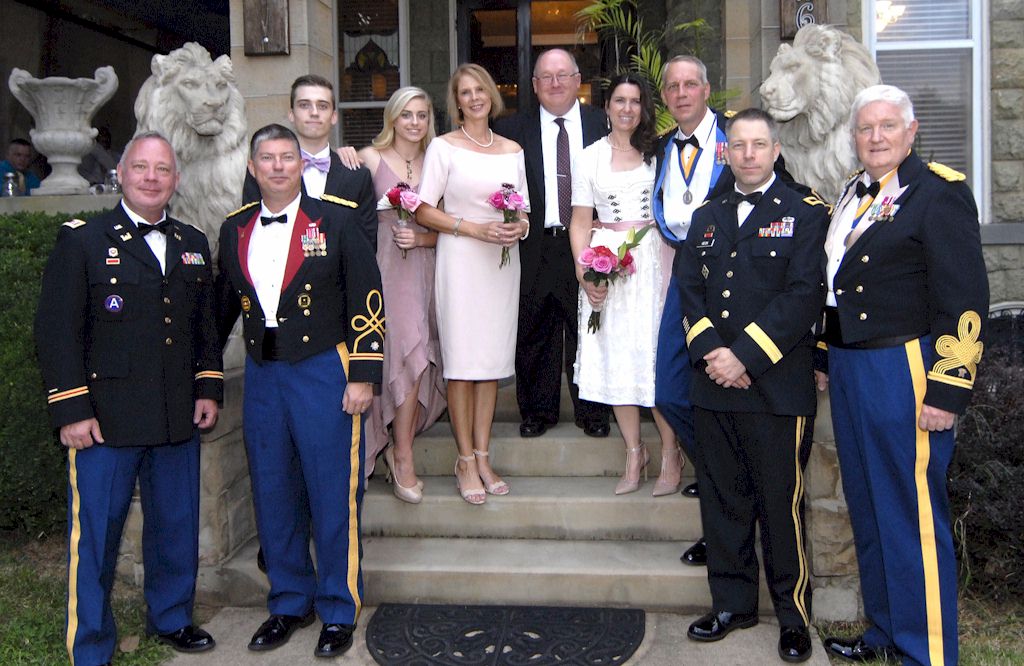 L to R:  Groomsman Capt. Jeff Hall (Renton, WA), sword bearer and usher Lt. Col. Dana Luton (Fayetteville, NC), Barbara's son Ian Brande (who gave away the bride) and daughter Caroline Brande, maid of honor Nicola Parrish (England), officiant Rev. Steven Zimmerman, newlyweds Barbara and Lawrence Meder, best man Brig. Gen. Howard C. W. Geck (Albuquerque, NM), and sword bearer and usher Col Kenneth Webb (Murfreesboro, TN)
The newly married couple is shown below in the 1890 gazebo planned as the wedding location.  This photo was taken moments before the skies opened.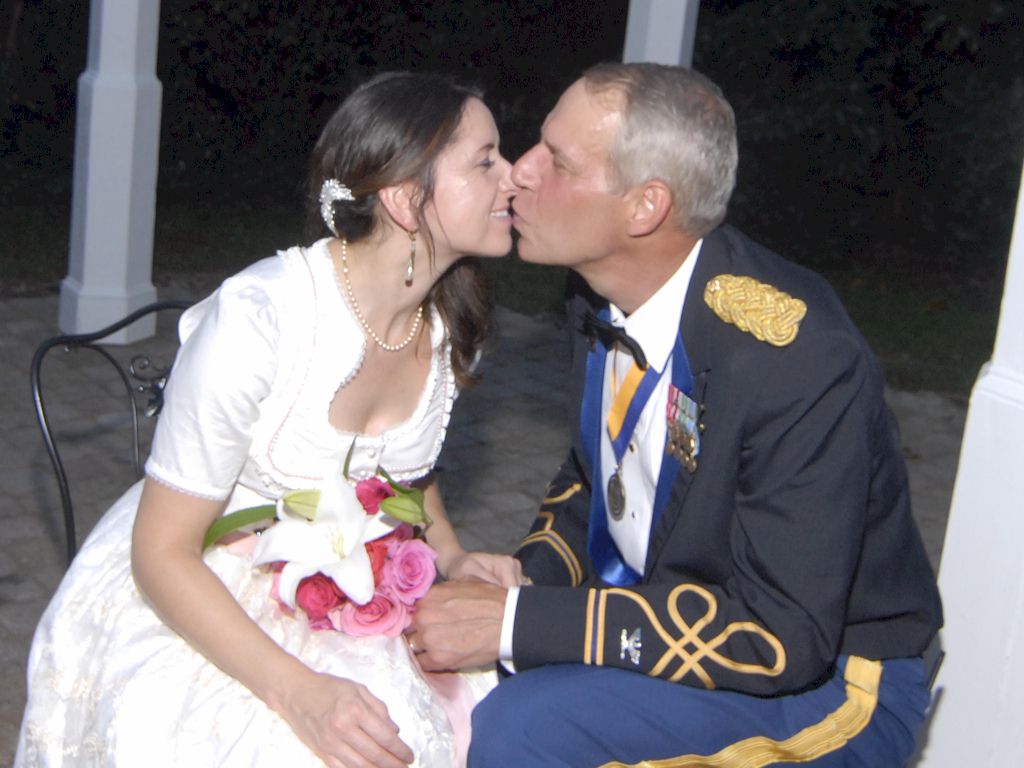 The Gazebo, originally was located behind an Old West End mansion that was removed to make way for the first YMCA in Danville. The Gazebo was saved and re-erected in Forest Hills. Two years ago, Lawrence, his brother Fred, and the crew from Outdoor Designs once again took it down and stored it until it was placed in the backyard of Lawrence and Barbara's house on Lady Astor Street.
---