Jean McIntosh's search for a historic home began about three years ago while she was living in Colorado Springs. The climate was not agreeing with her health, and her struggles were only met by confusion from doctors who could offer no solutions. Finally, it became clear that she would need to move to a more congenial climate. Her mother was living in New York and struggling with health issues consequent of old age. Jean thought it was perhaps time to move closer to her mother. She packed her things and hit the road, but her mother passed away while Jean was in transit.
It took some time to arrange her mother's estate and during that time Jean's own health hit some complications. Diabetes led to an infection which led to a partial amputation of her foot. The cold weather posed a risk of frostbite, and so Jean was restricted to the indoors. With little else to do, and still dreaming of a historic home project, she began browsing Circa and its affiliate CheapOldHouses.
Jean was not intimidated by the idea of living somewhere new, and much of her remaining family lived in the Maryland and DC area, but as she began looking at houses there, she realized that housing costs were not affordable for the size of home she was looking for. And so she began looking further southward, where homes were more affordable and the climate a little more pleasant.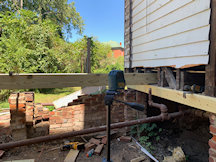 And then one day, while perusing the various old house websites, she found an advertisement featuring the Old West End. She followed the link to the website and was blown away by Danville's collection of impressive homes. She could see that many of them needed some work, but that didn't dissuade as she had restored several historic homes in the past. Intrigued by what she saw, she contacted Paul Liepe and scheduled a tour of available houses.
Jean looked at nearly every available house in the Old West End, but at last focused her search on Pine Street, where she saw the work that was going on there and learned about ongoing plans for improvements. Several homes interested her, but beyond that was how friendly the neighbors were. She was awestruck at the warm welcome she received and by how helpful and kind everyone was. She felt that it was a real community and she felt a desire to be a part of that.
Jean finally settled on , once a part of the William S. Patton estate. The house was structurally sound and, except for the modern additions that were deteriorating from poor construction and lack of proper maintenance, she felt that the home really spoke to her.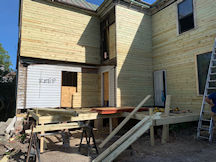 "Danville has something really special," Jean said when asked why she chose Danville, particularly in reference to revitalization efforts. "It felt like home." Her advice to anyone considering buying one of the Old West End's homes, "Don't be afraid to ask for help. These people know their stuff and they can point you in the right direction. And it can be a lot more affordable than you think."
Jean will be arriving soon to take occupancy of her new home. In the interim, some necessary repairs are being made. We look forward to her arrival and welcome her as our newest friend and neighbor!