Matt Stockwell and Anne-Marie Alexander stumbled upon their new home at 861 Pine Street while exploring historic homes on social media. Accounts like Cheap Old Houses inspired them to begin searching for a project of their own. Anne-Marie, still uncertain about the project, soon found herself inundated with emails and forwarded posts from Matt, who had begun his search in earnest. Most of the houses he was finding were located outside of California—a move Ann-Marie was reluctant to consider.
Then one day Cheap Old Houses featured a blog post about Danville and the houses available in the Old West End. Inspired by the work being done here, by the efforts being made by government and citizens alike, and by the need we yet have for adventurous folks to come and rescue the homes that sit vacant, Matt decided it was Danville where he would focus his search.
It was in the course of Matt's work that he and Anne-Marie met. Matt began his training as a restorer of automobiles while working on vintage Chevy's with his father. While in high school he began focusing on Mercedes and shortly after graduating found himself with a job specializing in Mercedes restoration, eventually opening his own shop which he has owned and operated now for seven years. Anne-Marie, a paralegal with degrees in music performance and criminology, needed to have a motor swapped out on her 1980's Mercedes. She hired Matt to do the work and a year later they were dating. The couple will be married in June of this year and shortly thereafter will arrive in Danville to begin work on their new home.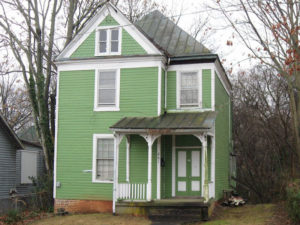 Having bookmarked a few of the homes they were most interested in, Matt and Anne-Marie arrived here on the 4th of July (2019) to see them in person. The first house they looked at was 861 Pine Street (read about the house here). At first they were overwhelmed by what they saw. The property was overgrown with trees, including one growing out of the foundation. Inside, the walls were lined with faux wood wall paneling and acoustic tiles had been hung on the ceiling. But the house was also larger than it appeared from the outside and architectural plans, which had been affixed to the wall in the entrance hallway, allowed them to really get a "bird's-eye view" of what the space could be. After some consideration and some tough decision-making, comparing the house to other opportunities, they decided it was the place for them and they made an offer.
While somewhat reluctant to leave their native California, the couple is looking forward to a slower pace and a more relaxed lifestyle that Danville has to offer, as well as the lower cost of living that will allow them to enjoy more time together and allow them, as well, the opportunity of pursuing interests outside of their professional roles.
Anne-Marie advises anyone considering buying a home in the Old West End to "let go of fear and go for it—whatever "it" is. There is a lot of potential in Danville and in the Old West End. It just needs more people to see it and take the leap."