It's now called the Stovall-Lumpkin House.  Your researchers at the Gazette assumed the home at 855 Pine Street was like the other cottages there – built in the 1890s or early 1900s.  You know what happens when you assume.
Rehabilitation underway at 855 Pine Street exposed an older form of construction.  Portions of the home have post and beam framing.  That prompted a cross-check of the 1877 Beers map with the 1904 Sanborn map showing a house of the same shape and location at the earlier date.  Time to check all the sources mentioned in Researching the Old West End.
Deed records at the courthouse showed an owner prior to the Lumpkin family, one John T. Stovall.  According to those records, Stovall bought a newly constructed home from W. W. Worsham on November 18, 1872.  It seems that Worsham built three homes on Pine Street – The Worsham House, Another Worsham House, and The Stovall-Lumpkin House.
John T. Stovall was certainly an interesting character.  He was born October 5, 1840, the son of physician James Reed Stovall and his wife Lucinda T. Pace.  The Stovall and Pace families lived near one another near Horsepasture, Henry County, Virginia.  Mother Lucinda passed in 1842 when John was about 20 months old.  After John's father remarried in 1847, John lived with his grandfather, Landis Patterson Stovall – another physician.  Yet John Stovall maintained close connections with his mother's Pace family throughout his life.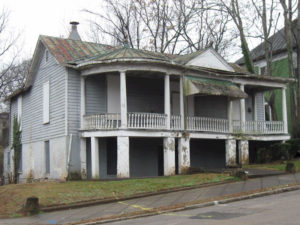 John T. Stovall bought his home on Pine Street in 1872.  By 1876, he owned a large tobacco factory in Danville.  He may have gotten his start in the tobacco business from kin James B. Pace, a prosperous tobacconist in Richmond with personal wealth valued at $60,000 and $75,000 – a combined total of over $2.7 million today.  Stovall's Danville factory burned in April of that year.  The factory and its tobacco were valued at $25,000 but Stovall was insured for only $10,000.  He somehow bought another factory later that year.
But by 1878, John T. Stovall was on the move.  He traveled throughout Europe for a year with his cousin R. G. Pace and Captain J. P. Hawkins.  Returning to Danville in 1879, he was nominated to run for the Virginia Senate and was elected to that seat in November.  In 1880, he ran for the U.S. House of Representatives but was defeated by George C. Cabell.  Stovall contested the election by claiming that voters were blocked from the poles but ultimately conceded to Cabell in August 1881.
By 1880, James B. Pace, the same person who was a tobacconist in Richmond, had relocated to Danville.  He and his family resided at 861 Green Street at the corner with Park Street.  That lot is now vacant.  Another member of the Pace family, James R. Pace, lived in what is now called the Bell-Pace-Boatwright Mansion at 904 Main Street.
By 1883, John T. Stovall was in Texas.  Newspaper reports say that he was a cattleman. While he may have been affiliated with other ranches, by 1886 he was the general manager for the ranch owned by the same James B. Pace – reported to be one of the best and most profitable in the great cattle country.
Stovall's Pine Street house was sold by a trustee to N. W. Lumpkin on August 5, 1886.  While the reason for a trusteeship is unclear, it may have been because Stovall was in Texas at the time.  in 1905 it was sold again to the Prescott family who owned the property for 85 years.
John T. Stovall was reported to be visiting Richmond in December 1886.  What became of him after that is not clear.  There are other Texas newspaper clippings with the same name, but it seems unlikely to be the same person.  No records of his death or burial can be found.
The renamed Stovall-Lumpkin House at 855 Pine Street is now under rehabilitation by Margie Forbes.  The Worsham House at 871 Pine is occupied by the Eisenbergs.  And Another Worsham House at 861 Pine is soon to be rehabbed by the Stockwells.