When the Old '97 (immortalized by the famous folk/country song) careened off its tracks at high speed in 1903, it was the result of an attempt to avoid government fines for late mail delivery.  Montilla Clark was not on it.  For what ever reason, his assignments took him elsewhere that day.  Known for his "probity and care" he was entrusted with many important lines, including the Crescent Limited, the Southern's deluxe passenger train which began serving the public in 1929.  (Coincidentally this train too was featured in a song by R.E.M. in 1985).  During his eight years in service as the Crescent's engineer, he held a 98 percent punctuality rate, a record in the railway industry.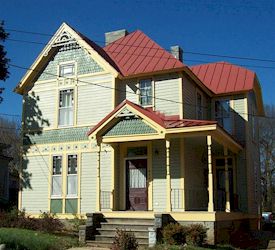 Clark, who lived at 830 Green Street, served the Southern Railway faithfully for 54 years.  Though he was the last living man to pilot the Old '97, that wasn't his only close call with death.
On December 15, 1909, passenger train No. 11 derailed from the Reedy Fork Trestle near Greensboro just eight minutes before it was due to arrive there. The wreck was caused by a broken rail, which sent three day coach cars and two Pullman's plummeting 30 feet to the stream bank below, killing sixteen and injuring more than twenty others.  Clark himself was bruised and scalded but fully recovered and was later exonerated from all blame, as the rail was broken before he'd arrived at the trestle.
Clark was well-known for his expert handling of a train, both in his 52 years as engineer, as well as the two years previous when he worked as a fireman on a wood burning engine, throwing nine cords of wood into the firebox each day.  It was owing to this "grueling test of stamina" that he said he owed his "stout physique."  He was also known for heralding his entry into town with his whistle "making brave attempts to play 'Carry Me Back to Old Virginia,'" which he achieved by "dexterous twists of the whistle cord in low and sustained, if crude harmonies."
Of his many thousands of passengers, Clark was privileged to have the charge of three presidents, William McKinley, Theodore Roosevelt, and Woodrow Wilson, all of whom met Monk at the end of their respective journeys and shook his hand.
On February 18, 1937, "Monk" Clark pulled into the rail yard at Spencer, NC, he descended from the cab, looked his engine over "as a matter of routine" and went to the washroom where he changed his clothes. He then went to the café at the nearby Y.M.C.A. and ordered an orange drink.  While consuming the drink, he suddenly slumped off his stool.  When fellow patrons attempted to lift him back up, they found that he had died, quietly and unexpectedly of a heart attack, without the merest hint of feeling ill.  Monk Clark died doing what he loved, quietly and without fanfare, at the age of 75.