Mike Huggins' work as a civil engineer often took him out of town.  As a result, he felt somewhat disconnected until he became involved with Grace and Main Fellowship, a local, multi-denominational, Christian-based community.  He began making some meaningful friendships with people in the group, many of whom lived downtown. Thus, when it came time for him to consider buying a house, his sister, a real estate agent, helped him scout out some of the nearby neighborhoods.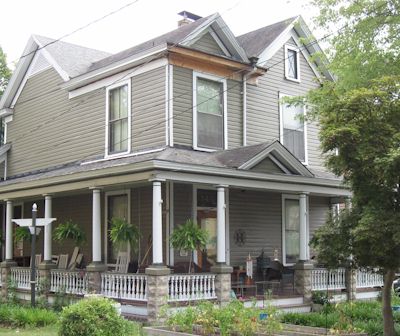 One house on Sutherlin Avenue was not on their list, but when they saw a "For Sale By Owner" sign out front, they decided to stop and call.  The owners just happened to be home and invited them to come in and look.  Mike fell in love with the house instantly.  It had character and charm, and many carefully-crafted details that you just can't find in modern architecture.  Though the historic nature of the house was not the qualifying factor in Mike's purchase, it has come to be one of the things he appreciates most.  For him, the initial choice to buy a home in the Old West End came down to location.  "The neighborhood is central to everything," he observed.  He enjoys being able to walk or ride his bike to Danville's many attractions.
Walkability is important for small cities like Danville, and people are coming to appreciate what that means for building a sense of community.  The Old West End is within walking distance of many of the city's amenities, including those in the River District. "And they keep popping up," Mike added with some measure of excitement.
It's the same excitement with which he speaks of his wife.  Mike met Rachael while he was helping some friends living on the Old West End's Pine Street prepare for their wedding. Rachael had known the bride in their hometown in New Jersey, and she had come to help with the wedding as well.  She and Mike were introduced, and they hit it off from the start.  After some long-distance dating and traveling back and forth, Rachael decided to come to Danville, where she now works with children on the autism spectrum as a Behavior Analyst.
Since moving to the Old West End, Mike has started working for the city's Public Works department.  This has him involved in projects that are helping to revitalize the city and his neighborhood as well.  He finds it rewarding to know he's improving the lives of those within his community and paving the way for future businesses and residents.
Though it was not their original aim to live in the Old West End, Mike and Racheal are happy they do.  They and people like them make the neighborhood what it is, a community of friends and neighbors, all making their contributions, large and small, to the preservation of the city's historic treasures while creating a brighter future.