The Gazette recently had the privilege of visiting some of the Old West End's newest neighbors in their present home in New Hampshire, thanks to virtual technology during this strange era of social distancing.
Joe and Melissa Eisenberg are the new owners of 871 Pine Street, the 1870's Italianate home built for tobacconist William Worsham. It's not their first restoration project, not by a long shot. In fact the home from which they spoke to the Friends of the Old West End Gazette was built in 1850.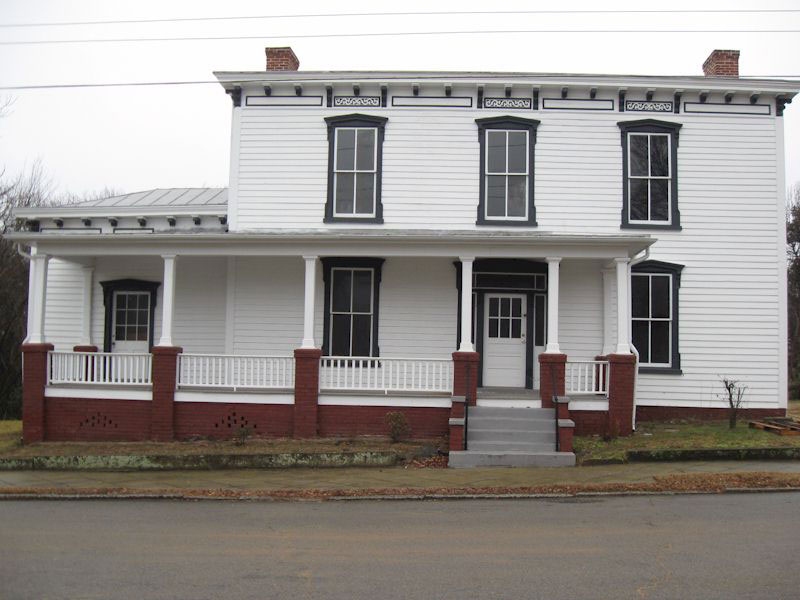 Melissa began her career as a welder but eventually chose to change careers and attended Andover Newton Theological School in Newton Massachusetts where she studied to be a chaplain. She is now a stress reduction teacher trained in the Mindfulness-based Stress Reduction technique. Joe, a retired filmmaker and graduate of NYU, has lived in New Hampshire since 1990. The couple are now retired but say that their love of old houses, and of rescuing them, means they often find themselves with plenty of work to keep them busy.
It was for the warmer climate that the Eisenbergs began contemplating a move southward. The weather wasn't the only draw, however. The lore of southern charm and hospitality provided another. But even beyond that was a concept brought home especially to Melissa as a part of her mindfulness training. White privilege and awareness are topics often discussed in trauma-mindfulness programs, and becoming more aware of the ways we ourselves walk in the world is difficult when we don't have adequate experience with diversity. Such was Melissa's concern, having spent nearly the entirety of her life in New Hampshire. A desire to broaden her cultural experiences was another major factor in their decision to venture southward.
The search for a new project was somewhat casual, however, until their New Hamsphire home was visited by fire. When it was over and the damage assessed, it was found that the efforts to put out the blaze were more damaging than the fire itself. Having found themselves displaced for the six months required to make the necessary repairs, their search for a new home became quite serious. Listings on Circa.com had drawn their attention to North Carolina but when they happened upon several listings in Danville, they decided to have a closer look. That was when Joe found the Old West End website. Danville seemed to have just what they were looking for: a place of diversity with people working together to better their community and an impressive inventory of old houses just waiting to be rescued. This much they had gathered from their online research, and so the couple decided to make a trip to see Danville for themselves.
"Paul showed us nearly every house that was for sale at the time in the OWE," Joe told us. In between their house tours they dined at 616 and met some of the people in town as well as other visitors who were equally impressed with what Danville had to offer. In the course of their weekend stay, they also met with the leaders of the synagogue and continued to meet friendly people from all walks of life who had found their way to Danville by many and various routes. They saw a city working hard—and working together—towards a robust revitalization effort, a diverse community of individuals who believe in the place in which they live. They quickly came to see that, in Joe's words, "Danville is very, very special."
The Eisenbergs were particularly charmed by 871 Pine Street with its gracious light and views that look out onto the city with all its church steeples. The large front porch looks out onto the neighboring houses and the evolving streetscape. The house exudes Southern charm, and with the cottage behind it there's plenty of space for guests. It's also something of a blank slate as the walls have been taken down to the studs, which means a good deal of work has already been done for them. All that remains are the fireplace surrounds and window moldings and lots of room for imagination.
The Eisenbergs are enthusiastic about their move to Danville (they hope to be here for good in the fall) and they have encouraging words for those considering coming here as well. "Want to be greeted with a smile by almost everyone you pass by? Want to be in the middle of a great work in progress and make a real difference? Then you have no choice. Danville!"