Many readers will remember the Danville Lumber and Manufacturing Company on Lynn Street – founded in 1902 and in existence until 2007.  The site of their plant is now the fire station, museum, and fire headquarters on Lynn Street.  But few will remember the older Heidelbach Lumber Company established in 1885 and continuing under various names through 1958.
The latter company began as Heidelbach & Penn – a partnership between Frank Sullivan Heidelbach and Peter Collins Penn.  Heidelbach was an Ohio native born in 1853.  He lived first on Main Street and then on Paxton Avenue.  Neither home presently stands.  As with other members of the extended Penn family, P. C. Penn was from Patrick County, Virginia, born in 1848.  He lived at 138 Holbrook Avenue in the Old West End.
Heidelbach & Penn initially manufactured tobacco hogsheads and tobacco boxes.  In 1911, on the death of Mr. Penn, F. S. Heidelbach gained full control and began to expand the business to a full-service millwork.  It soon became the Heidelbach Lumber Company – Sash, Door, and Blind Factory.  Its substantial factory was located at the foot of Colquhoun Street adjacent to the river and just west of the iron railroad bridge we presently use as a Riverwalk footpath (see map above).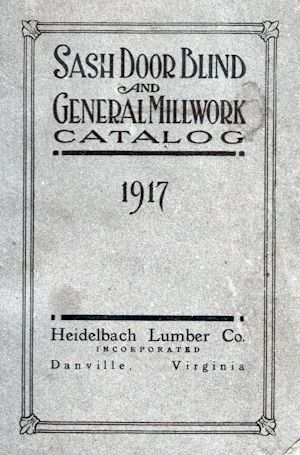 Heidelbach Lumber furnished much of the lumber and materials for buildings in this part of Virginia as well as North Carolina.  It was a member of the Southern Sash, Door, and Millwork Manufacturers Association.  Every two years, that organization published the Southern Universal Catalog.  This book was generally used throughout the south and was the standard for millwork used by architects and builders.  As with other lumber dealers, the Heidelbach company provided copies of this 224-page, 5½ by 8 inch book with a custom Heidelbach Lumber Co. cover to its best customers.
In addition to windows and doors, many interior features could be purchased from the specification in the catalog – from staircases and newel posts to built-in bookcases and buffets.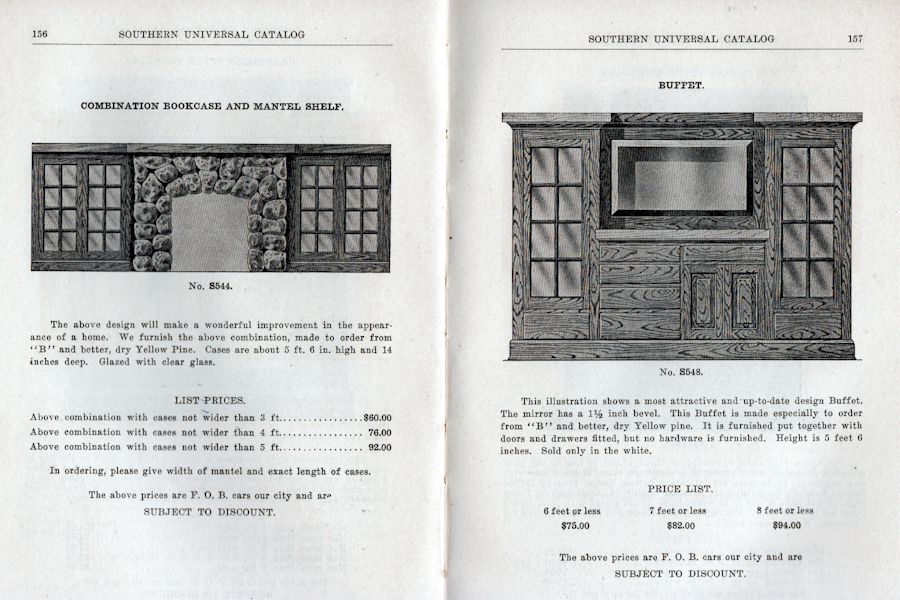 Frank Heidelbach married three times.  With his first wife Jennie he had two sons – Ernest in 1883 and Bert in 1885.  In February 1889 he married the widowed Ida Stephens.  Sadly, Ida passed just two months later in April.  Frank married again in 1893 to Cora Chase Summers.  In addition to helping to raise his sons, Cora dedicated herself to the work of the Methodist church.  She was secretary to the Danville District of the Methodist Conference and a trustee of the Methodist Ferrum Training School, now Ferrum College, in Franklin County.  (The Ferrum buildings, erected between 1914 and 1942, now comprise their own National Historic District.)
Frank Sullivan Heidelbach passed in January 1927.  His estate was valued at $75,000 – more than $1.1 million in today's dollars.  His last will, witnessed by Lucy Brydon, Edwin Meade, and Julian Meade, made two public bequests.  Ferrum Training School received $5,000 for maintenance of the Heidelbach Library he and Cora created there.  The second was $1,000 for maintenance of the Heidelbach Cemetery in New Gottingen, Ohio.  After other small family bequests, his wife Cora received the balance of the estate and their home at 909 Paxton Avenue.  She continued there until her passing in 1934.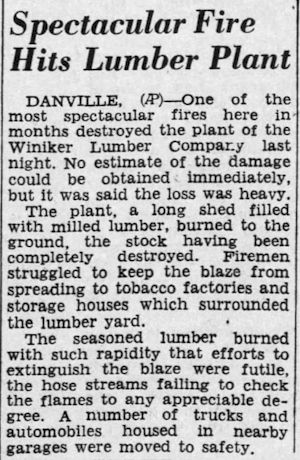 The Heidelbach Lumber Company came into the hands of long-time employee Joseph H. Winiker.  In 1939, according to the Richmond Times-Dispatch, the Winiker Lumber Company experienced a spectacular fire.  However, the company rebuilt and continued supplying building materials and construction financing from the same location through 1958.
While Danville Lumber and Manufacturing may be the best remembered of our millworks, they were the last of many earlier planing, sash, door, and blind companies at their Lynn Street location.  The earliest there, by 1886, was T. B. Fitzgerald and Co. – the same T. B. Fitzgerald who built many Danville homes, churches, and factories and was also a founder of Riverside Cotton Mills.  By 1889, this millwork was known as Bass, Brown, & Lee.  In 1899 it became Conway & Walker Planing Mill and Sash, Door, and Blind Factory.  Another fire occurred there in 1901 causing the loss of an engine shed.  Apparently Conway & Walker sold to Danville Lumber on the latter's incorporation in 1902.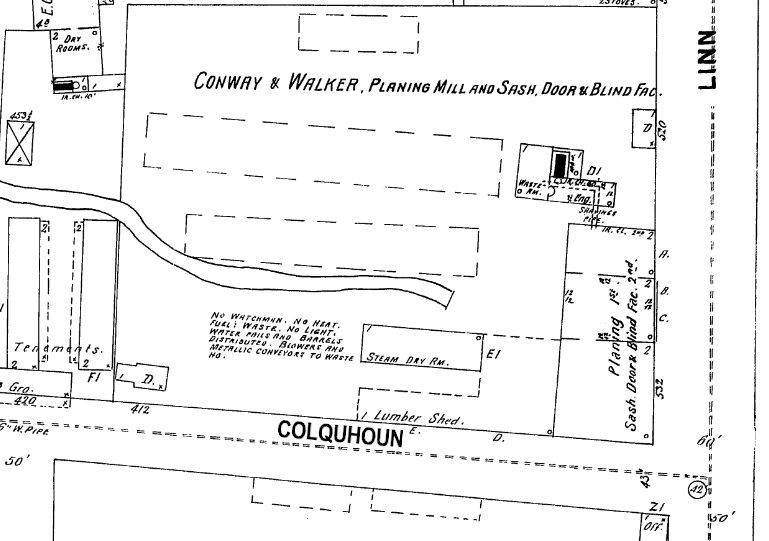 There was a similar factory on the north side of the river in what was then Neapolis.  Known as R. I. Anderson & Co. Planing Mill & Sash, Door, & Blind Factory, it was located just north of the flour mill (site of today's YMCA).  Anderson too experienced a disastrous fire in 1894 destroying their machinery and large amounts of lumber and coal.  There was no water available to fight the fire as the Neapolis waterworks were still under construction at that time.  Because the plant was located adjacent to the Southern Railway, its main track was damaged and two boxcars and several telegraph poles were also destroyed.