Luke Ramsey has already begun applying his restoration skills to the Clarke House at 218 Jefferson Avenue.
Luke learned the ins and outs of historic restoration from his father, and he's made it his living, even taking over the family business when his father passed away over a decade ago. Luke's many projects have included log cabins, historic barns, and yes, historic homes. His newest venture, "Ramsey Historic Properties" will focus on restoring neglected treasures like the Clarke House to vibrant life.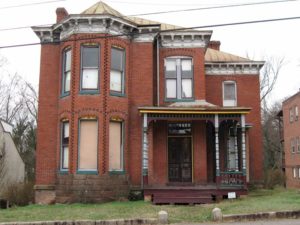 Luke, who lives in Nelson County with his wife and son, Elijah, has done work in the past with Preservation Virginia and Danville's own Sonja Ingram. It was in conversation with Sonja regarding the rescuing of some tobacco barns that the homes here in the Old West End came up.  (See the video featuring Sonja, Luke, and tobacco barn restoration.)
Sonja encouraged him to come have a look. He dismissed the idea at first, but when she mentioned it a second time, he took her up on her suggestion. He came for a visit, looked at several houses, and returned home with a head full of what he had seen and the many and varied possibilities for how to put his expertise to good use in our historic neighborhood. Once the mental dust began to settle, however, one house in particular stood out and he could not stop thinking about it.
With the Clarke House in mind, Luke made a second trip to Danville, just to see if the house was really as amazing as he remembered. He wasn't disappointed. That second trip yielded the discovery of yet more previously unnoticed details about the house that made it even more amazing than he had remembered it to be. The house, despite years of neglect, is in a wonderful state of preservation, with its original plaster, fire surrounds, pocket doors, moldings and ceiling medallions, intricately carved newel post and other woodwork, and stained glass. Not to mention the apparent attention to quality and detail the builder exhibited in the home's construction.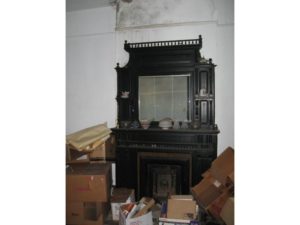 It wasn't just the Clarke House that impressed Luke during his visit. "I was really surprised how much Danville has changed," Luke said. It had been ten years since he had last seen Danville. What he saw was a citywide effort to restore and revitalize our city. "That's what really excited me, all the people who had restored all those old houses in the Old West End. There's definitely a strong energy of people bringing those houses back and being really passionate about it. I don't see that in too many places. So many cities are just tearing down their old houses."
The efforts going on in Danville reminded him of Lynchburg twenty years ago. At that time the city was selling houses for just a few dollars as long as you were willing to agree to restore the house within a certain period of time and live there. He passed up the opportunity then and thought he had better not pass up this one. Danville, within not too many years, will be as vibrant as Lynchburg or Greensboro, and Luke wants to be a part of that.
Luke intends for the Clarke house to be a second home for his family. His wife, Adrienne Young-Ramsey, is a native of Florida with a background as a professional musician. For the last few years she ran a bakery and health food store until she quit working to focus on educating their son, while at the same time tending their Nelson County farm where they raise sheep, cows, and chickens.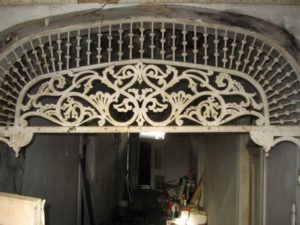 Though the Ramseys plans to maintain their home in Nelson County, they look forward to making a part time residence here in Danville, and toward sharing the Clarke House and its restoration with the community. Luke is especially excited to begin work on the magnificent find that is the Clarke House.  We look forward to watching the transformation unfold. Welcome, Ramseys!