Laura Crump was born in 1831 in Montgomery County, North Carolina – 40 or 50 miles south of Greensboro.  She was the daughter of John Bushrod Crump and Letitia Lindsay. She attended the Greensboro Female College and was a member of its first graduating class in 1848.
Laura married pharmacist Dr. Thomas Jefferson Patrick in 1850, coming to Danville in 1853.  Here, Dr. Patrick abandoned his role as a druggist and went into the tobacco business. This was likely because his sister Jane married Danville tobacconist Major William T. Sutherlin.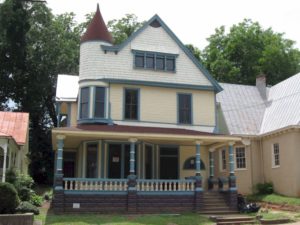 Laura and Thomas Patrick had between six and nine children here.  Their oldest, daughter Mary Patrick, is well known to blog readers as Mae Talley.  Little is known of her husband, B.J. Talley, who she divorced in 1886.  Mae built the house now numbered 126 Chestnut Street on land gifted by Major Sutherlin in 1889 – quite an accomplishment for a woman at that time.  At this writing, the Talley House awaits new owners for its further restoration.
In her later years Laura wrote the history of the Crump family largely from information provided by another of her father's sisters, Eva Crump Forest. Laura's grandfather, James Crump, was born in Loudon County, Virginia. When he was in his teens at the beginning of the Revolution, he served as a page to General Washington. He was later promoted to regular service and fought under General Nathanael Greene at the nearby Battle of Guilford Courthouse in 1781. James Crump achieved the rank of Major by the close of the war that same year. It was then that he and his younger brother John moved to Montgomery County.
Laura Crump Patrick was best known for her life-long interest in caring for the sick.  By 1883 she was secretary of the Ladies Benevolent Society that created the "Home for the Sick" – Danville' first post-war hospital – in 1884. In those years, folks who were ill were cared for in their own homes. The Home for the Sick was for people who had no home or no one to care for them – particularly the men on the tobacco market who were living in Danville's boarding houses.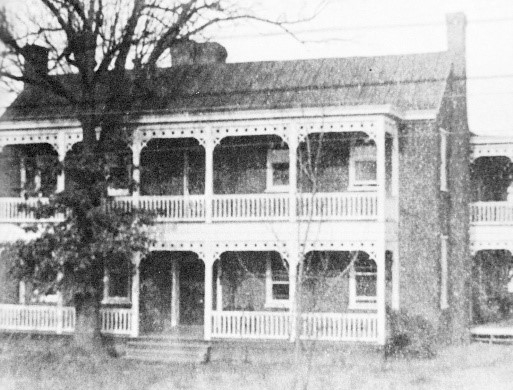 The Home for the Sick was in a two-story frame house in Tazewell Alley – now South Ridge Street. It was rented from Captain W.T. Clark and furnished with contributions from the ladies' homes and mansions. Interestingly, this same building earlier served as the temporary capital of Virginia during April 1865.
In 1887, the Ladies Benevolent Society acquired the vacant Danville Female Academy at the corner of Jefferson and Loyal Streets. This building became known as the Danville General Hospital. In 1898, the Ladies opened the School of Professional Nursing there as well.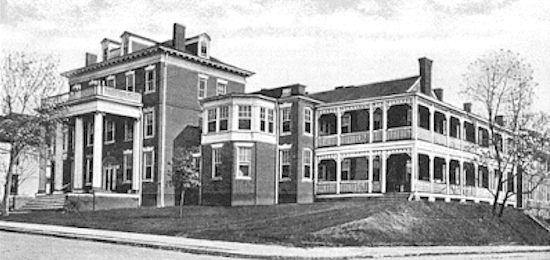 Laura Crump Patrick became president of the Ladies Benevolent Society in 1892. Under her guidance, new wings were added to the General Hospital in 1904 and quarters constructed for the nurses and nursing school on Loyal Street in 1911.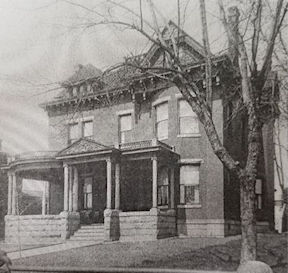 Though concerned with housing for the sick and their nurses, it does not seem Laura had a home of her own.  The 1892 City Directory shows her staying in the Pritchett Mansion at 992 Main Street – since demolished for the Doctors Building.
In 1902 she resided at 953 Main Street – then the house number for the Sutherlin Mansion (now the Danville Museum of Fine Arts and History). She was staying there with her aunt and uncle.  In 1905 she was staying in an apartment at Elm Court at 811 Main Street.
In 1910 she resided at 130 South Main Street with daughter Annie and her husband William Higgins.  In 1917, they had moved to 120 Broad Street – perhaps because Laura had fallen and broken her hip in that year.  Laura Crump Patrick passed at her daughter's home in 1921.
Without Laura Crump Patrick's dedication, we may not have had the Home for the Sick or the General Hospital – precursors to Memorial Hospital, Danville Regional Medical Center, and today's SOVAH Health.  Thank you Laura.