The Haskins-Mead house at 1050 Main Street is soon to have a new owner-occupant. The house, built in 1895 for Robert Haskins and last occupied by Yene Fusion Café, is soon to be the new home of King Cropp. (Read more about the Haskins-Meade house here.)
Food is a family business for the owners and operators of King Cropp. The family began their sojourn into Danville dining when Jim and Kathy Cropp's son-in-law, Rod Tomlinson, approached them with the idea of taking over Jake's on Main and turning it into an upscale burger place. Me's Burgers and Brews opened in September of 2015.
When their daughter Darcy and her husband Chris King moved to Providence, North Carolina, where they established a farm, they, too, wanted to get involved in the restaurant business. Indeed, it is Chris who is responsible for many of the menu items at Me's. Darcy, a horticulturalist, and Chris, a chef, have worked in various aspects of the food industry for much of their lives, and it has long been their passion to bring fresh, locally sourced food into the restaurant setting. Their joint venture started in August of 2018 with the King Cropp food truck.
"Danville just wasn't ready then for a food truck," Jim Cropp says, and after struggling to find the staff and patronage to keep it going, the truck eventually closed. The business was a seasonal one, open from August until the end of the growing season. The business wintered over in the old kitchen at the Leeland Hotel at 621 Main Street, and so, eventually, a dining room was opened there. The family has moved away from the farm to table concept, but they remain dedicated to sourcing as much of their ingredients as locally and as freshly possible. "Chris doesn't buy products," Jim and Kathy told us, "he buys ingredients." Whenever possible he makes what he can himself. Dressings, sauces, relishes, toppings, especially, he will make and preserve for use in the restaurant.
Though King Cropp has had a successful stint in the Leeland Hotel, the building has fallen into new ownership and will soon begin development. For the last few years, Jim and Kathy have been looking for a new location. Originally they were looking for something in the River District and even considered locations on North Union, but development costs for basic systems, let alone commercial kitchen build-outs, became prohibitive, while at the same time, competition for available parking made both locations ultimately unrealistic.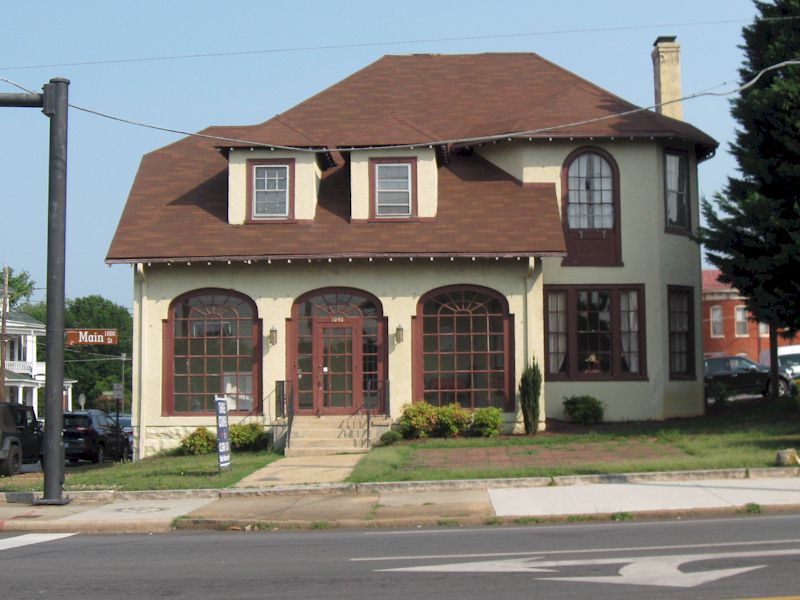 In March, a friend suggested the location at 1050 Main Street. With ample room for seating both indoors and out, with plenty of parking, and a layout that will provide for a full commercial kitchen, public restrooms and plenty of space for safe dining in the new Covid world, the house seemed perfectly suited to accommodating a restaurant. The house also provides a central location for residents of Danville's downtown area as well as its businesses and schools. With the Casino coming, as well, there should be plenty of new business to add to the restaurant's loyal and existing clientele.
The Cropps have worked closely with the city to get this venture going. It was a long and involved process with many steps along the way, but they were very pleased with the cooperative attitude of all those involved, including the city planning department, City Council, and the Commission for Architectural Review.
The Cropp family is all about community. "We really believe in the area," Kathy told us, "and we are here to support the community and to be a part of Danville's growth and revitalization."
The new location will not only provide for the usual creative and mouth-watering King Cropp fare, but the upstairs portion of the house will also be converted into restaurant space in the form of a pizza parlor. The two operations will keep slightly different hours, with King Cropp being open for lunch and dinner and the pizza restaurant (tentatively named "A Slice Above") maintaining slightly later hours. The projected date of opening is April/May 2021, and we couldn't be more excited!
For more information about King Cropp, visit their website, or check out the video below.