When Kevin Vaughan travelled to New York in 2005 to interview with CIT about a job opportunity, he returned home to Atlanta with "good news and kind of good news." He'd been offered the job.  And they would be moving to Danville, Virginia.  A week later Kevin and his wife Melanie came here to check the place out and to look at houses.  Melanie was not immediately impressed by the then-struggling community.
During their visit they were shown houses all over the city, but none of them really felt right.  Frustrated, they called the Jewish Temple hoping to get some advice from a few of the city's residents.  Two members, Susan Levine and Jo Ann Howard, now dear friends, offered to drive them around.  Susan suggested that they look at a certain brick house in the Old West End on West Main Street.  Melanie felt it was too big and too old.  She was used to more modern architecture.  At last they agreed to stop, and Susan led them through the yard.  When they peeked through a back window, Melanie liked what she saw.
So, they went next door to meet the neighbors, Ruth Callahan and Susan Stilwell.  Susan Stilwell happened to be the selling agent.  Impressed by those they met that day, the Vaughans arranged a formal viewing of the house.  Upon seeing it, Melanie and Kevin were immediately impressed.  There was nothing about the spacious, warm, and well-lit house that they didn't like.
Melanie remembers well the day they moved in.  They arrived at the house with no furniture – nothing to really make the house comfortable.  But they found on their door a note inviting them to a potluck dinner at a neighbor's, at that time a tradition in the Old West End.  That one act of kindness and inclusion introduced them to friends they have kept during their 13 years here and led them to see Danville really is a very diverse place.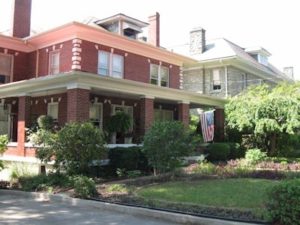 The Vaughan's house on West Main Street is one of four houses built by the Booth brothers in 1908.  The two brothers came to the U.S. from Italy and built four nearly identical houses side by side. Three of those houses were built of stone, but the fourth, that which the Vaughans bought, was built of brick.  At one time, the house was the Grogan Tourist Home, a place where travelling salesmen and tourists could come "for happy sleeping."
Though not immediately impressed, the Vaughans say their happiest years have been spent in Danville.  "It's a place where individuals can really have an impact."  For those wishing to make positive change in the world (as Melanie does through her non-profit work with the local Pilot International chapter, Luncheon Pilot of Danville, as well as through her artwork and enthusiastic support of the arts and local artists), it's a great place to live.  The people in the Old West End make Danville a richer place, as do Kevin and Melanie.