Kendall Ratliffe is an Old West End Neighbor and the new President of the Danville Historical Society. She arrived in Danville in 2013 from Midlothian, Virginia, and fell in love with the town the first time she drove down Millionaire's Row. "It was nice to move to a contained small town where there are so many old buildings," she says. "The historical feeling here is very palpable."
Soon upon arriving, Kendall began looking for something she could be a part of. The Danville Historical Society, under Sarah Latham's leadership, was the first organization she joined. Together she and Sarah started Quiz Night, which began at Jake's on Main. The experience was a rewarding one and she enjoyed the sense of fulfillment that resulted from her efforts to initiate something that brought people together. "It was something that people were really excited about." Quiz Night continued through Jake's transition to Me's Burgers, and eventually moved over to 2 Witches, whose staff have adopted the event and made it their own.
Through DHS and other local organizations, Kendall began to network with others, making friends and forming acquaintances that helped her to feel at home in Danville. She was really impressed by the number of young people who were doing good things here, making positive impacts in the community and working hard towards Danville's revitalization.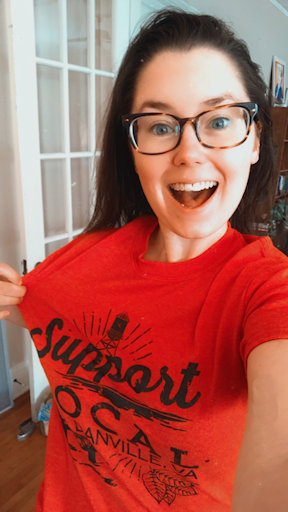 That desire to be a part of something positive in Danville resulted in her present position as Senior Program Coordinator at Middle Border Forward. Middle Border Forward works to "inspire meaningful community engagement and cultivate effective leadership to create a strong future" for those in the city of Danville, as well as those in Pittsylvania and Caswell Counties. Middle Border Forward provides small project related grants, along with leadership training, to assist those in the area who want to make a positive impact in our community.
Kendall is also a resident of the Old West End. Upon first arriving in Danville, she was working remotely for Averett. While attending a party downtown, she met Joyce Wilburn and, through her, heard about the historic walking tours that Joyce leads. Through that connection, Kendall received information about a fourplex apartment that was available in the Old West End. Living in a sunny, historic apartment was the beginning of Kendall putting down roots in Danville.
Danville has truly become Kendall's home. "What's made me want to stay," she says, "is a feeling of unity with this cohort of people trying to make Danville a better place."
Kendall's involvement in the Danville Historical Society has recently led to her appointment as the new President of the organization, and she's very passionate about this opportunity to preserve Danville's history, while at the same time sharing those stories with others.
"I think it's important to learn about history because we are already repeating it," she says. "People are already living out their history, so the more we know about it the better prepared we are to avoid the mistakes of the past."
The Danville Historical Society is concerned with collecting and preserving objects and artifacts related to local history, and Kendall looks forward to networking with more people in the community and providing a truly inclusive narrative to the history of Danville. The story here is much bigger than has so far been told. "I think it's great to hear the stories that didn't make it into history books."
Due to Covid-19, the organization is presently restricted from holding in-person programming, but there are still ways to get involved. There is a lot of work that can be done by volunteers, and the archive room at their downtown headquarters houses many items including books, photographs, newspapers, architectural plans, and many, many other items of interest to those living in and around Danville. For $15, a visitor can spend an hour with the collection. The acquisition of a large format scanner allows visitors to scan copies of many of the items they might find there.
Once the pandemic is over, Kendall looks forward to meeting people face to face in an effort to share with the public what the Danville Historical Society has to offer. Of course, the work of acquiring artifacts continues, but more than that she hopes to preserve and retell the stories of those who add previously unheard voices to Danville's story. Not only is it important for people to know that the organization can keep their objects and artifacts safe, but that they care about them. "These are people's personal stories," she says. "They are deeply connected with them, and so we realize that it is a big ask. We have work to do to gain the trust of those whose stories we would wish to tell."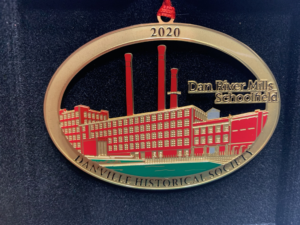 Membership to the Danville Historical Society is just $35 a year and allows free access to the archives. To further raise funds, the organization sells holiday ornaments, with a different historical site being featured each year. This year the ornaments feature the Dan River Mills site at Schoolfield.  They can be purchased by cash or check at:
Foxglove Clothing of Danville @ 1011 West Main Street
Vintages by the Dan @ 310 Main Street
Main Street Art Collective @ 326 Main Street
Karen's Hallmark Shop, @ The Danville Mall