The first Jews settled in Danville in the mid-1860s.  Most were immigrants from the German states and were part of a wave of immigrants seeking financial and physical security in the South.
By 1880 approximately 70 Jews lived in Danville.  Many of them owned highly regarded clothing stores.  They included Max Koplen, Kolman Silverman, and Jacob Berman, whose descendants continued to operate haberdasheries well into the 1990's.  Until very recently "Abe's" on North Union St. was operated by Barry Koplen, the great-grandson of Max Koplen.  Rippe's, at the top of Main Street hill was founded by Benjamin and Annie Rippe, who came to Danville in 1907.  It continues to be operated by third and fourth generation descendants, Ben and Sam Rippe.
It is said that Jacob Berman stepped off a train in Danville on his way to Milton, North Carolina, to open a men's clothing store.  By chance, he met Mayor Harry Wooding, who urged him to abandon his plan to establish his store in in Milton, and to open it in Danville.  And so he did.
In 1879, the Jewish men of the community organized the Danville chapter of B'nai B'rith ("Sons of the Covenant"), the Jewish fraternal and charitable association which served as a focal point for the community.  By 1885, B'nai B'rith was meeting twice a month at the Odd Fellow's Hall on Main St. The first organized Jewish worship services were held there under the auspices of B'nai B'rith.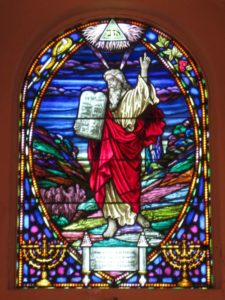 Temple Beth Sholom ("House of Peace"), a handsome brick and turreted structure located at 129 Sutherlin Avenue, was constructed in 1890 as the home of Danville's Reform (liberal) Jewish congregation. Louis Herman, the founder of what became "Herman's" department store on Main St., helped to support the fledgling Reform congregation.  In the 1930s, he presented the congregation a beautiful stained-glass window representing Moses descending Mount Sinai with the Ten Commandments (at left).  That window is set in the eastern wall of Temple Beth Sholom, above the holy Ark, and is the focal point of the sanctuary.
Isaac Shuster was the owner of a clothing store which was to grow into "Harnsberger's", another large department store on Main St.  Mr. Shuster was an early benefactor of the Orthodox (traditional) Jewish community whose members began to settle in Danville in the 1890's.  The congregation named their association "Aetz Chayim, which means "Tree of Life." In 1910, through the benefaction of Mr. Shuster and others, Aetz Chayim was able to build a handsome brick "shul" (an Orthodox place of worship), on Wilson St.  Rabbi David M. Kushner served as the congregation's first rabbi.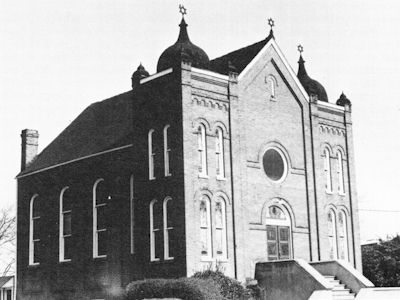 Aetz Chayim (at right) had the good fortune of having Rabbi Max Kapustin as its spiritual leader between 1938 and 1948. Rabbi Kapustin was a linguist and scholar. He energized the congregation through the introduction of twice-weekly Hebrew classes, religious school following services on Saturdays, and instruction in Jewish history on Sundays.
The shul stood until 1986, when it was razed.  By that time the congregation had declined by natural attrition and through the loss of young members who left Danville to pursue their educations and greater religious and cultural opportunities.
During the great Depression and into the 1940s, both congregations and their members struggled financially.   At times the congregations could not afford rabbis, and for brief periods were compelled to close the synagogues. During that difficult time, in common purpose, the congregations cooperated with each other by combining their religious schools.
There have been times, too, when significant stress existed between the two congregations. Most of it resulted from differences in forms of worship observed by eastern European Jews, who were largely Orthodox and who strictly adhered to the requirements of the Torah and Torah commentaries, and the Reform movement which had its origins in Germany in the early 19th century.   Reform in the United States combines English with Hebrew in its prayer books, includes women in its worship services, and is generally more liberal than Orthodox worship.
Fortunately, B'nai B'rith and Hadassah, the Jewish women's' charitable organization, have provided common ground for members of both congregations.
This story courtesy of Sam Kushner drawing from the archives of the Temple and the Encyclopedia of Southern Jewish Communities.  See also Danville Jews and the Community.