Before 1900, Jefferson Avenue existed only to the southeast of Main Street leading to Five Forks and beyond.  Then, at some time before 1904, a new byway was created in the Old West End.  Named Jefferson Avenue Extension, it stretched from the intersection of Main Street and the old Jefferson Avenue northwest to Grove Street.
Calling this new byway a street would have been an exaggeration.  It was, in fact, a path with a wooden footbridge spanning the ravine between Main and Grove.  But it was greatly appreciated by residents, saving them from walking the long way around to either Ridge Street or Chestnut Street.

The wooden footbridge was often in need of maintenance.  In 1927, its handrail was destroyed as a prank in a big Halloween celebration.  That colorful masquerade was described by the newspaper as a local Mardi Gras.
At about the same time, in another part of town, the old iron Worsham Street Bridge, limited to foot and wagon traffic, was being replaced by a new concrete span to carry the weight of trucks and automobiles.  The only known photo of the iron Worsham bridge is shown at top.  A section of that old bridge was reused to span the ravine between main and Grove.  This "new" bridge on the Jefferson Avenue Extension opened to light weight vehicles (3,000-pound limit) on September 16, 1928.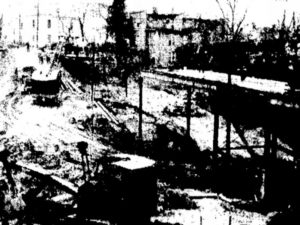 With its wooden decking, even the iron bridge required extensive maintenance.  In 1933, Mrs. Grace Rickman sued the city for $7,500 because the heel of her shoe went through a plank throwing her to the ground.  However, that bridge remained in service until 1958.  At that time, a culvert was laid in the deep ravine and the area filled in with earth.  Jefferson Avenue took its present form, and the iron bridge was dismantled.  A photo of that work appeared in The Bee (at right)
But that's not the end of the story.
In 1960, the city completed an expansion of its library.  Considerable costs were saved by using the structural steel from the Jefferson Avenue Bridge.  As may readers know, the city library was in the old Sutherlin Mansion until 1971.  That building now serves as the Danville Museum of Fine Arts and History.  So, the next time you're in the museum, remember that you may be standing on a part of the original Worsham Street Bridge.