James Madison Shelburne (1867-1951) was the 4th child and 1st son of John Wesley and Jane Goodwin Shelburne.  He was born and raised in Kentucky.
After graduating from Georgetown College in Georgetown, KY, he attended the Southern Baptist Theological Seminary in Louisville and became a pastor. He pastored in several churches in Alabama, Tennessee and Virginia.
In 1913, he accepted the position of president of Howard College (now Samford University), a private Christian school in Homewood, Alabama.  He changed the focus of the college from a military university to a co-ed university and began programs in music and education.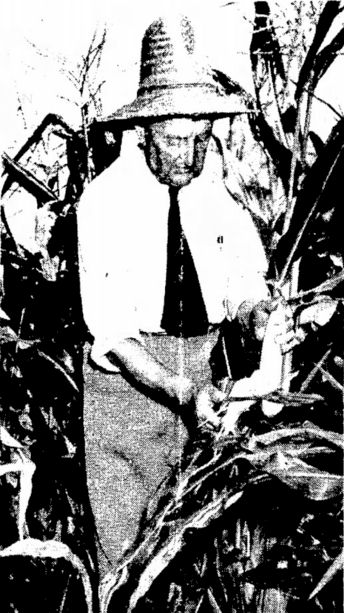 Early in 1921, he came to the Old West End where he pastored the First Baptist Church of Danville.  He became pastor-emeritus in 1942, which gave him more leisure to engage in his favorite pastime – the growing of vegetables, particularly corn and tomatoes.
In 1947, The Bee ran a story about his hobby and how he provided food for many in the Old West End.  In that year he gave at least a thousand ears of corn and the fruit from 115 hills of tomatoes to his neighbors.  But his garden wasn't limited to corn and tomatoes.  In the preceding year, his giant pumpkins took first, second, and third prize at the Danville Fair.
"I have had a garden ever since I was president of Howard College," he said.  For twenty-three years at that time, Dr. Shelburne nursed his crops on an unbuildable acre of land between Pine Street and Jefferson Avenue that was and is owned by the church.
Perhaps someday, that parcel of land, highlighted below, will again bear fruit in some way for the Old West End.