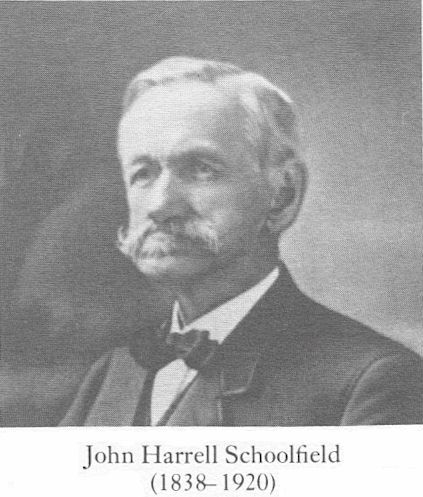 John Schoolfield, the oldest of the Schoolfield brothers, was not yet living in Danville in 1882 when he, his brothers James and Robert, T.B. Fitzgerald, B.F. Jefferson, and Dr. H.W. Cole founded the Riverside Cotton Mills. At that time, he owned a tobacco manufacturing plant, general store, and attractive home in Horsepasture, Henry County.
Like his brothers, John married one of the France sisters of Henry County – Susan France in this case. They had eleven children born during their time in Horsepasture.
It was in 1883 that John purchased 100 feet of Main Street frontage from A.S. Buford. His home there was constructed by mill co-founder T.B. Fitzgerald in 1884. Both exterior walls and interior partitions were made of brick.
In addition to his role as director at the mills, John had many other business interests. In 1898, he was president of Citizens Bank (with T.B. Fitzgerald as vice president), partner in a tobacco manufacturing company with G.A. Watson, and a partner with brothers H.L. and J.B. Boatwright in a leaf tobacco business.
In October 1892, John Schoolfield was elected president of the City Council by drawing lots.  The Council was deadlocked between two qualified candidates for president – John and his neighbor O. W. Dudley.  To resolve the issue, Council formed itself into a committee of the whole.  Six bits of paper were placed in a hat – two with the name of Dudley, two with the name of Schoolfield, and two blanks.  The Chief of Police was blindfolded and instructed to draw out three slips of paper.  On the first draw, he produced a Schoolfield ticket, a Dudley ticket, and a blank.  But on the second draw, the Chief brought out two for Schoolfield and one for Dudley.  The Council then reassembled and unanimously elected John Schoolfield as president.
With his brother Jim he was a promoter of the narrow-gauge Danville and New River Railroad.  This later became the Danville and Western, nicknamed the "Dick and Willie."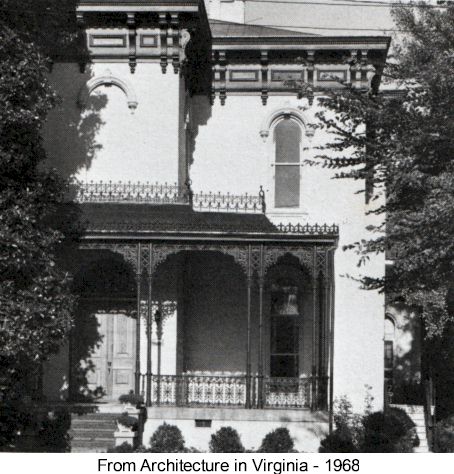 John lived in his Main Street home until 1920 when he became a casualty of the flu epidemic. While his will could not be probated on a technicality, his family followed his wishes. The home passed first to his widow and then to his daughter, Mrs. Daisy Schoolfield Keen and her husband.  She sold the home to Dr. Walter McCann in 1939 after the tragic accidental death of her husband Archibald Keen.
Today the John Harrell Schoolfield home has lost much of the appeal reported in Architecture in Virginia with the removal of its hidden gutters and supporting brackets.  It is hoped that they will soon be restored.