September was an unusually hot, dry month in Danville. Parts of the garden were parched and brown; phlox and zinnias mildewed when they were watered and, as far as a lawn was concerned, it was just as well to let wild grass go its own determined way.
As writers and researchers for Friends of the Old West End, we pull from many sources. Often in researching one story idea we run into another. We also employ a number of tools in the execution of our research. You might find us at the city clerk's office hunting down deed records in the archives, or at the library going through old directories. There is also a collection of old books there, some of which are downloadable online: Men of Mark in Virginia, Virginia, Rebirth of the Old Dominion, and Virginia Biographies. Together these books highlight the lives of many of the notable personalities who made Danville a thriving industrial market, once upon a time. Apart from that there are the invaluable online records found at Familysearch.org and Ancestry.com, as well as the archives of the old Register and Bee, found at Newspapers.com. And I can't fail to mention the invaluable contributions made by Gary Grant and his various writings including, Victorian Danville, Fifty-two Landmarks: Their Architecture and History, as well as the research and writing he's done for the Historical Society's annual Holiday Tour, which writings have been archived online for public benefit. (There are many other resources as well and we are working on compiling a list here on the OWE website.)
One book that has lately proved not only enlightening but profoundly enjoyable as well is Julian R. Meade's I Live in Virginia. I'm constantly surprised by the number of familiar names he mentions. But more than the mere mention of names and associated facts, it's the way Meade lays out the characters and their unique personalities. In Meade's book one actually gets a feel for who these people were.
Sometimes we choose our stories according to some historical point that has piqued our interest. Sometimes it's a house or an issue that needs a little extra attention. And sometimes, truth be told, it's coincidence, which is what led me to discuss Meade's book. The morning after reading Meade's account of his conversation with Harriet Fitzgerald, and consequently his entry about the hot, dry September of 1931, I happened to see one of the Register and Bee's headlines.
Unless miracle rain appears, Dan River Region headed for driest September on record as farms and landscapers struggle.
The September of Meade's remembering he was looking for something to do after having finished reporting on the events at Dan River Mills.
Nobody said, "Now what are you going to do?" But I needed no one to tell me that a young man past twenty-one could not lie around the house of his parents indefinitely, depression or no depression. Of course there were plenty of idlers: at the drug store corners there were grown boys leaning against the show windows while they smoked cigarettes they bummed from "the old man" and talked about liquor they would buy with "the old man's dough." Such youths were not generally admired, however, and it was agreed that every young man should have some kind of remunerative job.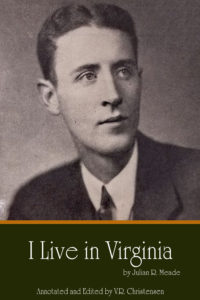 Meade took a job with Dan River Mills. He'd written about them extensively and he felt like something of a hypocrite for writing about a life he had not fully understood. I sometimes feel similarly. I've been blessed with this opportunity to write about the town I now consider home, but being a relatively new transplant here, I often wonder if I have the right to claim this position. As I continue researching Danville's history, I look for opportunities to make that research available to all who want it. Similar to our list of available Danville history resources, I'm presently in the process of transcribing Meade's book, now out of print, and publishing it into an annotated edition, footnoting notable individuals and places as they are mentioned, and linking them to what has been written about them here and elsewhere. Stay tuned for further developments on these two valuable projects. And for more information on the latter, you can follow the progress and offer your own contributions here.
Until then, thank you for reading and being apart of our work to preserve the Old West End.