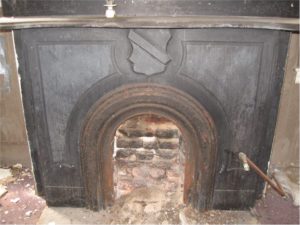 The Gazette recently had the opportunity of accompanying a volunteer from Friends of the Old West End neighborhood organization while showing several of the homes currently available in the neighborhood. It was quite an adventure walking through these century-old homes—some of whose history we've recorded here. Names like Carrington, James, Talley, and Lumpkin were mentioned during the tour, as well as a few whose histories we have yet to uncover and record (Don't worry, we've made a list!).
No doubt you're already aware of the city's decision to lower the prices on many of these houses, which has led to an immediate increase in interest, particularly by those outside the immediate Danville area. Previously, asking prices were determined by square footage, but this system didn't take into account the vastly different conditions of each of these houses. The new prices, which went into effect on January 1, 2020, now make these houses, and rehabilitating them, far more accessible to those of us who dream of doing so.
Our house hunting excursion took place on behalf of two separate parties. The first party, a couple, came in from the Virginia Beach area and were looking for a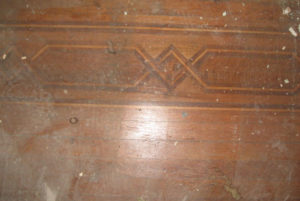 larger and more affordable home for their growing family. The second party is a single woman who has lived in the area for some time. She's looking for something historically significant and is researching some creative methods of making that happen, including perhaps purchasing and restoring a multi-family unit. The showing, therefore, allowed us to get a peek inside a wide variety of housing options.
A couple of the homes were of the smaller variety, including the Stovall-Lumpkin house at 855 Pine Street and the charming cottage at 124 Chestnut Street. The Stovall-Lumpkin house in particular has some interesting features. The house was built on a central hall plan with some impressive plasterwork in the entry hallway. The crown moldings are some of the most ornate we've seen, even in much larger houses. It appears as though the house was raised and a basement finished to allow for rental property. The house will be sold with the intention of returning it to a single-family residence. While there is some structural damage to the basement area, nothing that truly endangers the future of the building. The roof leaks, as is the case with too many of these homes, and as we found as we continued our tour, will likely be the ruin of many of them if we cannot find owners for them soon. The damage to the Stovall-Lumpkin house is fairly minimal, however, and there is a great deal of potential for the main floor.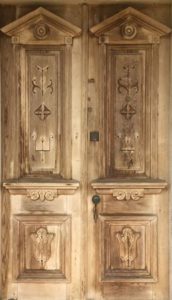 A severely leaking roof is also a problem for 124 Chestnut Street. Fortunately, a social media guru and old house advocate will be purchasing this. The Friends of the Old West End are hoping the renovation of this house (meant to prove that any house can be saved) will serve as an inspiration for others. We actually found this home to be exquisitely charming. The roof is in a sad state, and floors have subsequently suffered considerable damage. The house needs just about everything one can imagine, including new plumbing and electrical, but it's a charming layout with tons of curb appeal and room for some truly creative adaptations. The exterior has been restored and stabilized, and considering the asking price, we feel it's worth the effort.
Another home which has suffered severely from a failing roof is 939 Green Street. The house, once owned by Navy Admiral Jules James and his sister, socialite and world traveler (and cousin of author Julian R. Meade) Harriet James. The house has been divided into upstairs and downstairs apartments. The main portion of the house is in fairly stable condition and includes some remarkable marble fireplaces and a wonderful enclosed front porch, but a two-story side addition has virtually disintegrated from moisture and saturation. It's really a sad state for this lovely house that was owned by a truly fascinating family and was not infrequently the vacation spot for Russian royalty, with whom the family were closely connected.
One thing that your correspondent at the Gazette found interesting was the different ways people see and interpret the houses. While looking at the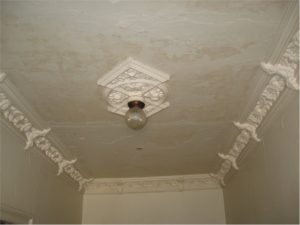 multi-family units, one party found that those which had been gutted and reframed for future rehabilitation, like the Talley House at 126 Chestnut, or the home at 808 Green Street (formerly a women's shelter) were the most inspiring and lent themselves most easily to reinterpretation for modern use, while the other party found the multiple reinterpretations confusing and was more inclined to view houses that had simply been abandoned and fallen to neglect, like 124 Chestnut Street or 622 Holbrook Avenue far more easy to envision in a future restored state.
Beauty truly is in the eye of the beholder and each of these homes offers unique opportunities, unique charms, as well as unique challenges. Creative approaches are welcomed and encouraged, and we hope to update you in a future issue as to how these enterprising buyers decide to go about their rehabilitation adventures.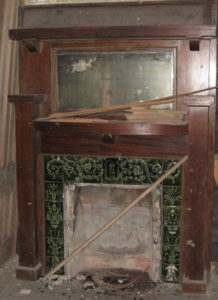 If there is a takeaway from our outing, it's that there is a home for everyone and for each of these homes there is a special someone who can see through the layers of peeling paint, the leaking roofs, and the crumbling plaster to the treasures that lie beneath.
Rest assured that the Old West End is being saved, one house and one homeowner at a time. The Friends of the Old West End's website and its marketing strategies are working, and they have the city, the enterprising people at Friends of the Old West End, and our hardworking, courageous, and innovative neighbors to thank for it. If you aren't a neighbor already, we sure hope you'll consider joining us!