Mother's Day became a national holiday in 1914. President Woodrow Wilson approved a resolution that designated the second Sunday in May to honor, "that tender, gentle army, the mothers of America."
It was not until 1972 – 58 years later and during his re-election campaign – that Richard Nixon signed a proclamation making Father's Day a federal holiday.  The campaign to celebrate the nation's fathers did not meet with enthusiasm – perhaps because, as one florist explained, "fathers haven't the same sentimental appeal that mothers have."
At the meeting of the International Lions in 1923, they proposed a holiday for fathers celebrated on October 3 every year. Individual clubs were expected to arouse public sentiment for this plan.
"The Bee," 75 years ago on June 16, 1924, reported that, "Yesterday was Father's Day, but it did not mean anything so far as Danville was concerned. There was no parade of men's Bible classes nor any mass meeting for eulogizing the sublime courage with which Dad watches the weekly pay envelope dissipate and fade away."
During the 1920s and 1930s, a movement arose to scrap Mother's Day and Father's Day altogether in favor of a single holiday, Parents' Day. The Great Depression derailed this effort to combine and de-commercialize the holidays. Struggling retailers and advertisers redoubled their efforts to make Father's Day a "second Christmas" for men.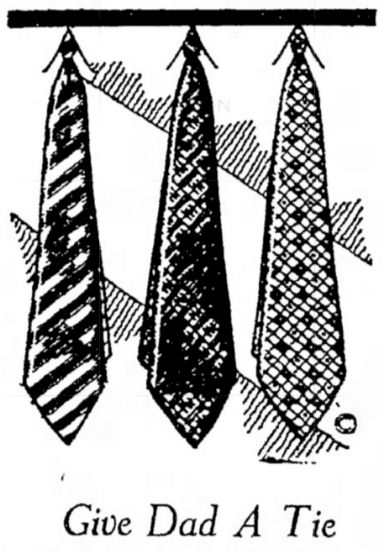 Danville merchants began to advertise Father's Day gifts. In 1925, Hamlin & Hamlin suggested a box of "El Princysal Cigars." Turner's Men's Shop suggest new neckwear in 1927, as did J. & J. Kaufman as well as M. Arenson & Sons in 1929.
In 1930, L. Herman proposed sending your father a card from their selection on the Main Floor. Thompson's suggested a pair of golf shoes would be "certain to bring a grin of pleasure to his face."  J. Berman, in 1935, offered their new Arrow shirts with Arrowset collars – "won't wilt, no starch, perspiration proof."  Silk pajamas were also a popular suggestion.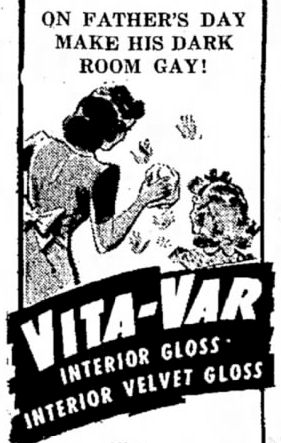 Perhaps the most unique gift idea was from Covington-Sams Hardware Company in 1942. "On Father's Day, make his dark room gay!" Their Vita-Var interior gloss finishes offered plenty of modern colors at only $2.35 per gallon.
When World War II began, advertisers began to argue that celebrating Father's Day was a way to honor American troops and support the war effort. By the end of the war, Father's Day may not have been a federal holiday, but it was a national institution.
Interestingly, there are three movies titled "Father's Day."  All three are horror films produced in 1982, 2011, and 2016.
In other countries–especially in Europe and Latin America–fathers are honored on St. Joseph's Day, a traditional Catholic holiday that falls on March 19.