Danville was founded in 1793 as a tobacco inspection station – 225 years ago.  Growing Gold is a special exhibit of artifacts and memorabilia related to that tobacco history.
The exhibit's focus is on the area called the Old Belt, of which Danville is the "buckle."  Using historic photos, the exhibit revisits the labor-intensive "13-month Year of the (tobacco) Farmer."  Artifacts evoke the pre-mechanized tobacco culture.  Tobacco can be seen, touched and smelled in its many forms.  Green "leaf" is strung onto a wood stringing "horse" and aromatic cured leaves are tied into hands.  These are artfully arrayed in large split-oak baskets for early tobacco auctions.
Auctions after the 1960s offered piles of cured loose leaves tied with burlap.  Those are shown a few feet away.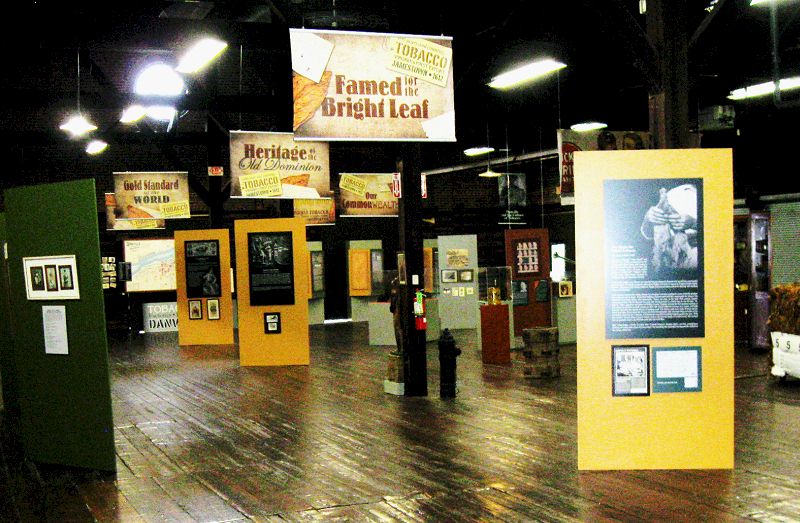 Eight hundred to 1,000 pounds of tobacco were pressed or "prized" into hogsheads – giant staved wood barrels for shipping.  These containers are also part of the exhibit.  A 19th-century tobacco plug press stands nearby, showing the many ways tobacco was stored, shipped, and sold.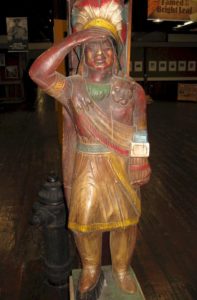 Rounding out the display is an immense map, a facsimile from the turn of the 20th century.  Seventy-seven locations are shown including auction warehouses, factories, prizeries, and other tobacco-related buildings.  Across the room are iconic photos of buildings in and around the railyard.  This area, Danville's Tobacco Warehouse District, was added to the National Register in 1981.
The exhibit's primary sponsor is JTI (Japan Tobacco International).  Their Leaf Services division is based in Danville.  The exhibit also honors JTI's support of Preservation Virginia in its award-winning Tobacco Barns Project.  That project has preserved many historic tobacco barns around the Old Belt growing region.
Growing Gold is open to the public through October 17 at Danville's Community Market, on Craghead Street.  Hours are Monday through Friday, from 9 a.m. to 5 p.m. and Saturday from 7:30 a.m. until noon.  Visitors should check in at the office before entering the exhibit hall.