Frederick Delius was a famous composer whose popularity ebbed and flowed in the first few decades of the twentieth century.
Born in the north of England in 1862 to German parents, Delius was born into a musical family and was schooled at a young age in violin. Despite his inherent talent and early mastery of the instrument, his father Julius wished for his son to join him in the family wool business. Fredrick was groomed to that end, but he did not catch on to the idea.
The family was connected to an orange orchard in Jacksonville, Florida and so young Frederick was sent there to help his brother. While in Florida, Delius became enamored with Southern culture, and most particularly with the music and heritage of the African Americans he met there.  One became his lover and bore an illegitimate child.
Despite being sent to the States to forget about music, Frederick's interests, and his skill, increased. When he saw an advertisement for a music teacher at the Roanoke Female College posted in the Jacksonville Times Union. He answered it and was offered the job.  In September of 1885, he moved to Danville to work under the music director, Robert S. Phifer. Delius taught piano, violin, and theory of music.
At the college, young Delius fell in love with one of his students, a Miss Watkins. They became lovers and were engaged. He wrote a song for her and gave her a ring and a photograph. But Frederick's longing to become an accomplished musician inspired him to consider returning to Europe to train under the masters in Germany, though his family remained dead set against it.
Fortunately, Delius had an ally in Professor Phifer, who wrote to Frederick's father, Julius, related to him just how accomplished his son's music had become, and assured him that the young man had a real chance for a career in music if he might only be allowed to study it seriously.
Frederick, undaunted, informed Miss Watkins of his plans to go abroad. She would not go with him. She returned his ring and his photograph, but not before ripping it in half.
Julius Delius at last relented, but only after Frederick had left Danville for Brooklyn where he hoped to earn money for his studies. Unable to find him, his father had to hire detectives.  They located him on Long Island, where he had befriended Walt Whitman. It was from the investigators that Delius learned his father had at last agreed to support him.
Delius returned home for a short visit before assuming his studies in Leipzig and Paris, where his fame was launched. In January of 1897, he returned to Danville to perform at the Danville College for Young Ladies (its new name, though it would eventually come to be known as Stratford College). The Register of Jan 31, 1897, recorded the event as "a most delightful concert." A plaque on the old college gateway on Main Street commemorating that event is shown below.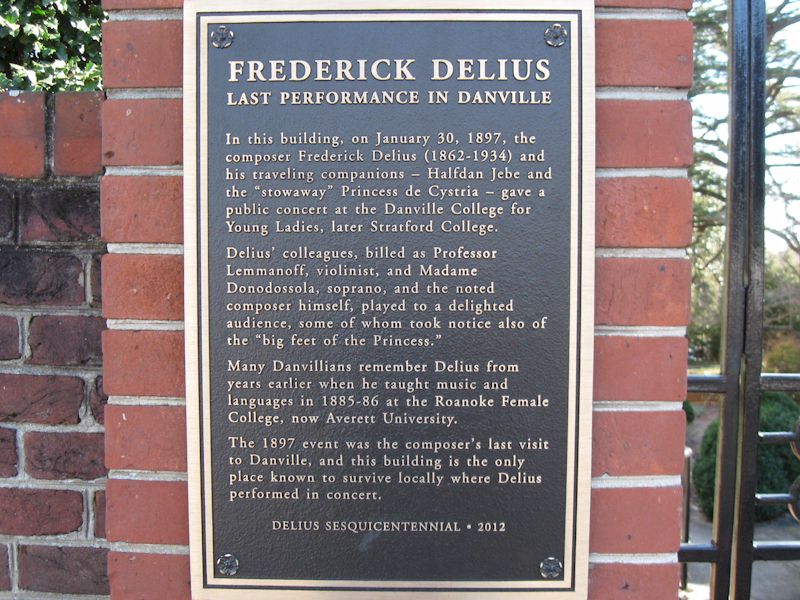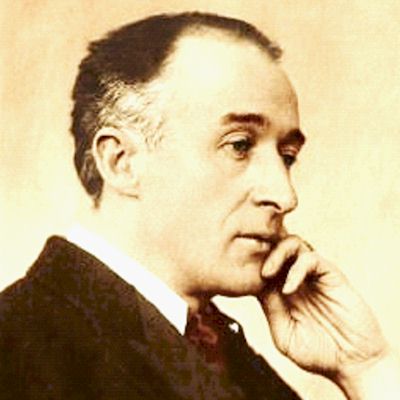 Delius' visit to Danville was brief. He soon returned to Europe where he became established as one of the world's greatest composers.  In 1929, King George V appointed Delius to the Order of the Companions of Honour, allowing the use of "CH" behind his name.  He is shown at about that time at right.  Recordings of his music are readily available online.
For more information about Professor Phifer, please see the story about 241 Jefferson Avenue.