Fred and Laura Meder are among the Old West End's "power couples."
Once a history teacher in New York, Fred first learned of Danville from the Joan Baez song, "The Night They Drove Old Dixie Down."  While skiing professionally, he met his first wife, a native of Danville.  He moved to the area and immediately fell in love with the history and the unique store of exemplary architecture.
While some denigrated the Old West End, Fred found a neighborhood that was actually quite safe and cohesive.  He noted that people often were and are out and about, working on their houses and their yards, and they are happy to talk to anyone who happens to say hello.  They still are.  "We're all excited about these homes and our efforts to bring them back to life.  On any given day, any number of homeowners would be happy to show you their houses and give a tour of what they've done."  Fred himself has completed eight restorations in the area, including artfully and thoughtfully installed landscaping, his primary profession.
But Fred may be outdone by his second wife Laura.  She has taught biology at Averett University for over 40 years.  She travels with students taking them to remote research stations to learn about our living world.  When not teaching and exploring, she loves to garden and take care of her house, pets and indoor tropical rain forest.
Laura also organizes the Christmas bird count and give talks about ornithology.  She has gone birding throughout South America, and does so in each an every place she visits.  Active in the community, she is the former treasurer of the Danville Historical Society and sits on the board of the Dan River Basin Association.
Though he had been offered lucrative positions as a ski instructor and as a history teacher, Fred found that his home was here.  Several of his family members joined him here, including his parents and his brother Lawrence, who is also enthusiastically involved in the area's revitalization.  Laura's parents also moved here to be near them.
"The homes are so inexpensive in Danville," Fred says, "that the mortgages, combined with the ability to do much of the work ourselves, means we can do the things we love.  We travel to Europe and the East to see history, to see tourist attractions, but we have that here."
Fred goes on to say that he's passionate about our responsibility to preserve our local history.  "If you don't know where you came from, how do you know where you are going?"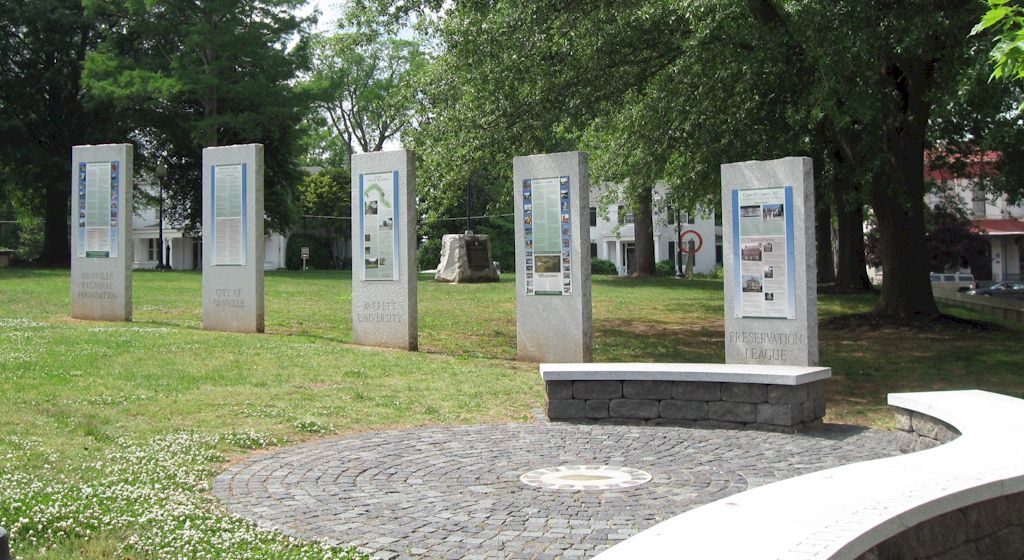 One of Fred's most recent contributions to the Old West End is a series of informational kiosks set up on the museum lawn (above). These marble structures along with the serpentine bench serve as a welcome and introduction, not only to the museum and its grounds, but to the history that the entire area has to offer.
Fred and Laura want you to come see for yourself the rich history the Old West End affords.  Take a walk down Green Street and you may find them happy to talk.