Tina Cornely is an artist and humanitarian who travels the world teaching people in impoverished communities how to empower themselves and live more self-sustaining lives through recycling.
From Georgia originally, she spent some time in New York writing for the Huffington Post and working at the Guggenheim Museum.  Eventually she moved to Florida, where her sister Deborah lived, and worked for the Miami Art Museum.  While living there, her daughter Kirsten, then a college student and an artist as well, decided she wanted to move back home.  Tina was happy to have her, but with her collection of art, and the cherished personal effects of a beloved sister who passed away, she felt they needed more space.
Tina began her search for a house in Florida, but quickly discovered that the prices of larger homes, even fixer-uppers, made buying locally unrealistic. Tina has previous experience in restoring old houses so the thought of taking on another project was no deterrent. "Some of my happiest times were spent doing period home restoration work."
Her search gradually carried her northward, first to Georgia, then South Carolina. She signed up to a few old house blogs and watched them diligently for about a year and a half.  During that time, homes in Danville continued to catch her attention.  And then she found OldWestEndVA.com, where she read our mission – to save these wonderful architectural treasures from destruction.  Embracing the mission, she decided to focus her attention here.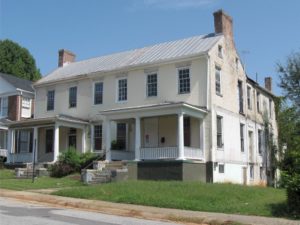 Tina was immediately drawn to the Robert Ross House and arranged for a visit. The house is one of the oldest in the city, built around 1840 (or possibly earlier), and was the home of a tobacconist.  Years later the Sonnenberg family lived in the house. Their mezuzah is still fastened to the door frame – one of many treasures Tina has found in and around the house since taking possession.  Other items include an antique wheat scythe, a Matchbox car that looks surprisingly similar to her own car, and patches of period wallpaper.
The house is in incredible shape for its age despite sitting empty for so long.  Though the paint and wallpaper are peeling, the house itself is sound and full of architectural details that lend a charm to the house even in its neglected state.  In her restoration efforts she hopes to preserve that sense of honor toward the character and authenticity of the house by repairing what she can rather than replacing it, even preserving some evidences of its age and use.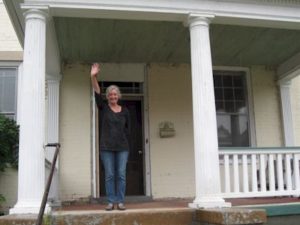 When asked what she thinks of Danville so far, her answer was enthusiastic. "Danville provides a quintessential urban living experience," she observed, "but with a better quality of life than larger metropolitan areas can provide. Each building is unique and historically significant, which lends to the city's rich heritage. But the greatest asset Danville possesses," she went on to say, "is the people, who are helpful, loving, and kind."
We rather agree.