Elsabé Dixon met her husband Rick as a young Fine arts student studying at the Pretoria Technicon and living in South Africa during the end of Apartheid. In those final years of segregation and white domination, the streets were flanked by heavily armed military personnel and the frequent explosion of bombs. Rick had been in the US Foreign Service, serving under the Ronald Reagan administration, when their paths crossed in South Africa. Elsabé worked part time for Schweickerdts, a German Gallery and Art Conservation Business, and Rick came in to get some photographs framed.
In 1985 Rick and Elsabé, disillusioned with apartheid politics and intense violence, married and returned to Virginia for a quiet academic life. They both taught at Chatham Hall. Elsabé taught ceramics, and Rick taught History and English. With a mind toward finishing her education, Elsabé decided to enroll at Danville Community College. Administration, however, felt that it would be too much of a challenge for someone who's native language was not English to take classes there. She turned instead to Averett University, which welcomed her with open arms. There she studied under Maud Gatewood, Robert Marsh, and Diane Kendrick in the Art Department. She was however also captivated by history and remembers well the classes of Bill Trakas, Jay Hayes, and Steve White. She also vividly recalls an English class by Steve Ausband and a religion and philosophy class by John Laughlin.
While attending Averett and teaching at Chatham Hall, the Dixon family grew to include Cobb and Ina, and the family embarked on a Fulbright Exchange program in Germany.  While in Europe the Family traveled extensively and Art Museums were always top priority. When the family moved to Northern Virginia, Elsabé studied under the Washington Color Field School painter (and sculptor) Hilda Thorpe. After studying Art History at the Corcoran in DC and Manhattan College in NYC during summers, Elsabé became head of the art department at Madeira, an all-girls private school in McLean Virginia. In 2009 Elsabé studied at George Mason University where she received her Masters in New Media which involved live insect art installations and audience participation. Elsabé continued to work on her own art projects through collaborative coalitions with groups such as the Floating Lab Collective. In 2013 Elsabé worked on a project called Book of Latent Promises, which took her to the Ghetto Biennial, an International Art Biennial in the red district of Port-au-Prince, in Haiti.  As a team member of Floating Lab Collective, she worked with paper recycling centers in Haiti to construct paper pulp that could be accessible to all artists in Haiti.  The project in Haiti, like many of her art projects, encouraged community engagement, empowering disadvantaged creatives, while at the same time creating opportunities for intersectionality within Haiti's earthquake damaged neighborhoods.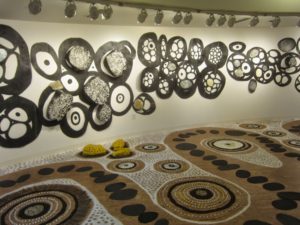 During the time studying at Mason and four years after graduating, Elsabé worked for the Glenstone Foundation in Potomac, Maryland. This Post Contemporary museum designed by Charles Gwathmey holds a post World War II art collection, owned by Mitch P. Rales. It is here, at Glenstone, where Elsabé received her museum training, and watched an entire museum program being built from the ground up.
Elsabe's newest assignment is here in Danville as the new Director of the Danville Museum of Fine Art and History. Her focus is on community engagement projects and finding ways to encourage people to work together. "You can't force people," she says. "You have to wait for a natural, authentic response. It's people wanting to get together around an issue. It's trying to find how people can come together around the same table to talk about things that matter to them and that are important to the immediate community and that will benefit all."
In that spirit, Elsabe' is looking at creative ways to open the museum up to the public, offering spaces people need and which allow them to feel that they are a part of the museum and, as an extension, part of the community it serves and represents. Some of her ideas include artists residencies and hands-on workshops, making more events family inclusive, even bringing yoga into the galleries, where people can benefit from the dual influences of art and self-care. Future exhibits will be produced with an eye toward engaging the community in the area's rich history, as well as facilitating dialogue around issues of equity. Elsabe' hopes to bring art in that does more than hang on the walls, but actually engages with the public.
"I love Danville," Elsabe' said, when asked why, of all the places she's lived and worked, she would choose to live here. "It was my first encounter with America. It was my first introduction to a culture I chose to make my own, and I feel I have come full circle".  The people in Danville remind me of my very practical and straightforward, " no-beating-around-the-bush" family in South Africa. Danville, too, is a place where one person really can make a difference. Elsabe' joins a quickly growing tribe of those positively impacting our region. We are excited to see those impacts come into fruition, and to help where we can. Welcome, Elsabe'!