The Old West End was once home to some movie stars!  Well, sort of.
During the 1920's and 1930's, a Hollywood movie producer, Don Newland of Paramount Studios, travelled from city to city making two-reel silent comedy films in small towns. Local Newspapers paid to have the well-known producer come and film scenes to a ready-made script using local townspeople and the town itself as a backdrop.
"A Danville girl is wanted to take the leading roll in the picture 'Danville's Hero' which is to be produced in this city under the auspices of The Bee," the newspaper announced. "What good looking Danville girl is going to play the title role?  The opportunity is open to every girl who wishes to do so to put in her application for the post and have the opportunity to see how she would appear on the silver screen."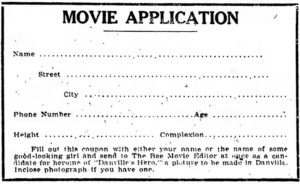 The leading role of Baby Ethel, went to local beauty, socialite, and Broad Street resident Miss Mary Temple (the same Mary Temple who conducted the unveiling of the monument to the "Confederate Mother" two years later).  The role of Mrs. Henpeck went to Miss Virginia Overbey of Holbrook Avenue, while 4½-year-old Chestnut Street resident, Albert Thomas, played the lead orphan.  The hero, Billie Brown, was played by Coalter Paxton of 815 Main Street.  An Old West End location played heavily in the film – the house (no longer standing) at 224 West Main, whose exterior was filmed to represent the Henpeck home.  Interior shots were filmed at the Majestic Theater.
The script was a variation on the popular Henpeck comedies, familiar stories at the time.  Each film included a car crash that showcased a bit of trick photography.  On the day the crash was filmed, a crowd of 1,200 people gathered along Union and Main streets, where bystanders stood to see how "these breathtaking film episodes" were made.
"A puff of smoke and two handsome automobiles which had been standing nose to nose at the intersection of Union and Main streets ran swiftly backward," the Bee reported on Feb 5, 1925. "'Cut!' cried a gentleman waving a megaphone – and a thrilling head-on 'collision' featuring in the Bee movie had been filmed – that is the most important part of it.  A few moments later the dilapidated specter of an automobile was towed into position, parts were scattered about the street and moving picture actors and actresses staggered away from the 'wreck' as the cameraman cranked his machine."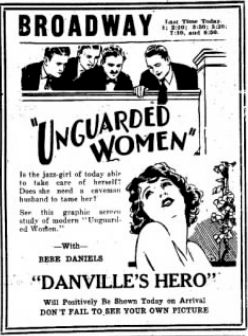 On February 7, the Bee reported that, "The last exterior 'shots' were made yesterday afternoon when Baby Ethel and her ardent wooer were seen with the inmates of an orphanage walking up Patton street."  The courthouse provided the exterior setting for the orphanage.
Filming was completed in under a week, and the first viewing took place on Wednesday, February 11, 1925, in the Broadway Theater once located at 409 Main Street.  The movie received fair reviews.  Although the actors were not professionals, they nevertheless displayed a "naturalness" of acting that proved "one of its strongest points."