On Sunday, June 18, 1922, thirty-two Danvillians decided to charter the City's first Evangelical Lutheran Church.  It was to be called the Church of the Ascension.  This event was remarkable in a couple of ways.
First was the morning and evening sermons by the Reverend E. H. Copenhaven.  They were marked by their intensity of feeling, their depth of thought, and their beauty of expression.  Second was the location of those sermons – offered at the Beth Sholem Synagogue on Sutherlin Avenue in what is now the Old West End.  (This was not the first time that the congregation at Beth Sholem showed their generosity.  They also offered the use of their building after a disastrous fire at First Baptist Church on Main Street.)
Lutheran use of the Synagogue continued for over six years.   One notable sermon was delivered at an evening service on Tuesday, April 12, 1927.  The Reverend Charles Teufel spoke on "Jesus in His Last Passover."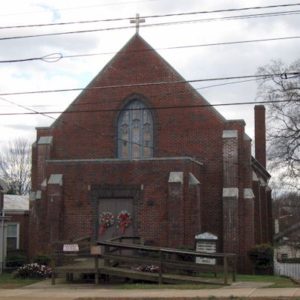 In December 1928, the Danville Jewish Religious School began using the Synagogue on Sunday mornings, and thus the Lutherans moved their services to Hylton Hall in Schoolfield.  This change also marked the beginning of a campaign for the Lutherans to construct their own modest house of worship.  But the dream of this small congregation was not to be realized for some time.
During 1932, and with local donations, the Church of the Ascension acquired a building lot on West Main Street opposite Randolph Street – just outside the Old West End.  The Synod approved construction in late 1934, the cornerstone laid in April 1935, and the first services held on May 26, 1935.  This building, still standing, holds about 200 people.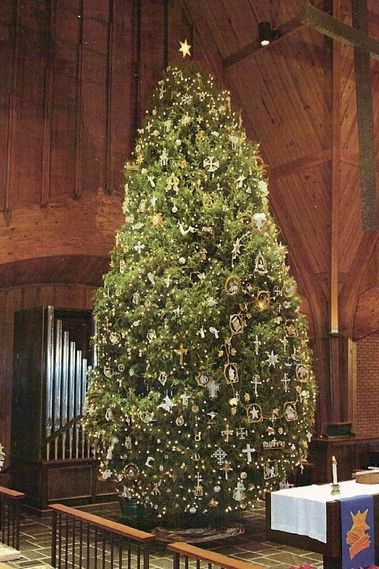 In 1957, this same small building was the home of the first Chrismon tree.  Chrismons, a contraction of "Christ monograms," are ornaments made from Christian symbols.  Chrismons were first developed by Frances Kipps Spencer and the women of the Ascension.  A Chrismon tree is decorated only with clear lights and Chrismons of white and gold material – usually handmade.  The Chrismon tree has spread to many other denominations and to countries around the globe.
When more space was needed, Ascension's difficulty in finding a home continued.  A lot at the corner of Main Street and West End Avenue was purchased in the 1960s.  But this lot later fell into the West End Urban Renewal Project and is now beneath Central Boulevard.
In 1968, the Lutherans acquired the Booth home at West Main Street, and in 1970 the adjoining Wilson home 308.  Their building plan was announced in January of 1971 and included a special workshop for the creation of Chrismons.  Ground was broken in October, the cornerstone lain in February, and the first service in the present building (above) at 314 West Main Street held October 1, 1972.
Today, Danville's Lutheran Church of the Ascension is known worldwide as the original home of the Chrismon tree.