When Stephen and Andrea Eggleston married, they needed a house large enough for their blended family of five children. They might have found that in the suburbs, where all the houses look alike.  But Andrea, a baker by hobby and trade, doesn't do anything in a cookie-cutter style. "There's something about being in the inner city that's not so homogeneous," she says.  "It's more diverse here."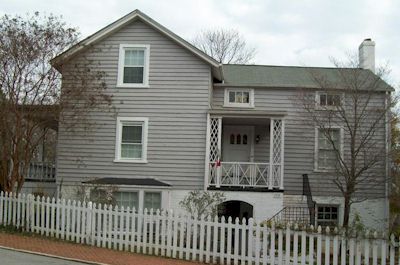 She had seen the house at the corner of Chestnut Place and Grove many times and was always a little enamored by its quaint side entrance, white-picket fence, and carefully tended garden.  That garden includes a generations-old crepe myrtle that guards the below-street-level entrance.  Upon first seeing inside, she found herself charmed by the house's quirkiness. It was the right size, with lots of rooms and tall ceilings.
The main part of the home was completed in 1876 and had a Grove Street entrance.  With the construction of a 1910 addition, the front entrance was changed to face Chestnut Place.  The addition was constructed from wood salvaged from homes that were being torn down at the time.  One of the rooms in that addition is a kitchen, where the cabinets and architectural details display the craftsmanship required to fashion something old into something new again.  It remains both beautiful and functional a hundred years later.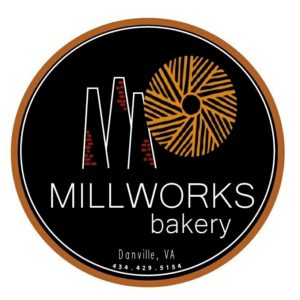 It's in that kitchen where Andrea and her daughter, Amanda, operate their business, Millworks Bakery. "Cottage Industry" was never so aptly applied as here, where the two women produce their line of baked goods using organic, gluten-free products.  The business began when they made some coconut macaroons and test-marketed them at Midtown Market.  Mrs. Grant just happens to be an especial connoisseur of macaroons and asked if they would make more to be sold in the store.  Midtown now stocks Millworks' quiche, veggie burgers, carrot cake, cheese spreads, and a rotating assortment of sweets.
There is also a supply of best-selling goods at their other family business, The Healing Center, where Stephen has his chiropractic and nutrition office.  He is also a certified and highly skilled acupuncturist who helps his patients heal when traditional medical practices have failed.
Small, entrepreneurial businesses like The Healing Center and Millworks are what set successful communities apart from those who suffer economic difficulties.  The people who own and operate those businesses, like those who own and maintain historic homes, have something of value and with meaning.  The beauty of living in a historic neighborhood like the Old West End is that the architecture encourages a diversity of neighbors, all of whom benefit by living there.  We learn and grow by what we share with each other.