The uniquely gabled and turreted Queen Anne style house at 145 Holbrook Avenue was built in 1889 for Mary C. Copeland as a gift from her husband.  Mr. W.S. Copeland, in cooperation with eight other investors, purchased nine lots on Holbrook Avenue at the time Major Sutherlin began dividing off the rear portions of his land. The Copelands no doubt built the house as investment for there is no record to indicate they ever lived here. The property was sold in 1894, just five years after its construction, and the new owners, Harrison Robertson, Jr., the son of wealthy estate owner Harrison Robertson, Sr., who possessed a large tract of land just west of the city limits, from approximately where the Montague House at 249 West Main stands stretching to the point at which Averett University's Main building is presently located. Mr. Robertson (Jr.) and his wife Mary, maintained occupancy of the house until 1912 when they sold the home to John E. Neal, a Danville tobacconist. John Neal was the fourth cousin of James Mastin Neal for whom the Neal House at 802 Main Street was built.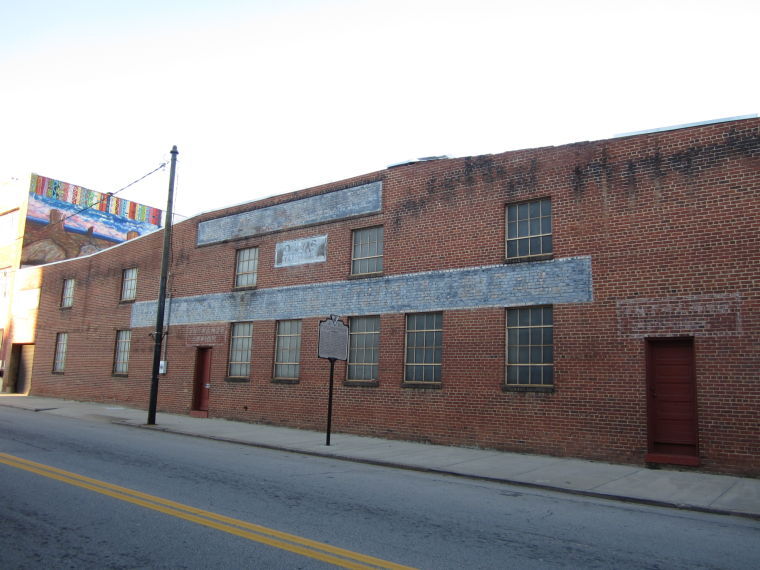 John Edward Neal was born in 1870 in Java, Virginia. In 1895 he married Eliza Heenrie Wooding, the niece of Henry Fielding Wooding, former mayor of Danville. Mr. Neal got his start in tobacco on his family's farm in Pittsylvania County where he learned to grow the tobacco and where he eventually came to be considered one of the most successful tobacco raisers in the area. Around the turn of the century, when Danville established its auction warehouses for the purpose of selling tobacco, Mr. Neal came to Danville to operate Cabell warehouse, along with a consortium of associates, and later Acree's Warehouse. As he grew increasingly infirm, he gave up the warehouse business but maintained management of his farms.
Sometime in the 1920's the Neals split the home into a duplex and rented out one side of it. The first renter on record was a cousin, Dr. John Jennett Neal. He didn't stay there long, it seems, for by 1930 he was living on Virginia Avenue and Jesse and Eudora Clark inhabited the apartment.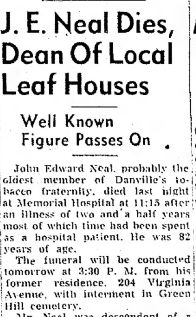 By 1940 the apartment was occupied by Mrs. Betsy Herndon, a widow. She lived at the address with her two teenage children, Halcourt, who was 15 at the time of the 1930 census, and Virginia, just eleven. Mrs. Herndon was born Elizabeth Haile in 1902, a native of Pittsylvania County. She married Halcourt F. Herndon in 1923, and he passed away sixteen years later, in 1939, of tuberculosis. Mrs. Herndon remained in the house until at least 1950.
In 1942, Mrs. Neal died suddenly from a blood clot in the brain. It was probably about that time that Mr. Neal moved from the Holbrook Avenue address to the home of his son Jack Lanier Neal at 204 Virginia Avenue, where he remained until his death in 1952. Son, James T. Neal, remained in the Holbrook Avenue house, but two years later, he too died, leaving his wife, Louise Booth Neal (daughter of Charles Louis Booth of 243 West Main Street), to manage the home and the rental property.
By 1960 the address was the home of George Livingston Griggs, the grandson of George King Griggs of Green Street. George was born in 1901 in Danville. Mr. Griggs, like so many others in his family, worked in the tobacco industry as a buyer. During his life he also employed himself as a tax consultant. He married Margaret Arndall in 1937. The Griggs lived at 145 Holbrook Avenue until his death in 1974 when he succumbed to bronchial pneumonia exacerbated by chronic pulmonary emphysema.
In 1982, just a year before her death, Mrs. (Louise) Neal sold the property to Sam and Connie Fletcher who lovingly restored the home to its present restored state.