Do you ever wonder where some of our Christmas traditions come from?
The Christmas tree, originally a German tradition, first took hold in the 1830s in New England where evergreens were so prevalent.  By 1850, many town squares boasted trees.  In our parlors, decorations often included nuts, popcorn, candies, and other home-made trinkets.
Thrifty Victorian families kept their trees year after year. Trees were often kept up until spring, then taken down and stored to dry. The following year, the tree was stripped of its needles and the branches were wrapped in cotton to mimic snow. Additional snow came from shaking mica flakes over the tree.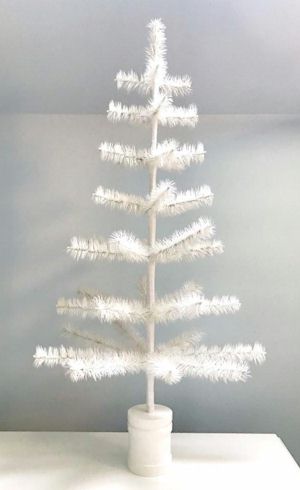 The first artificial trees appeared in the 1840s.  These feather trees were made of wire often with goose or turkey feathers, sometimes dyed green. Feather trees first appeared in the Sears and Roebuck catalog in 1913.
In addition to the tree, Southrons may be disappointed to learn that much of the "modern" celebration of Christmas first took hold in the north.  After the northern victory in 1865, northern traditions began to move south.  Customs and symbols of Yankee origin came to stand for the American Christmas.
Christmas gift-giving blossomed in the 1870s and 1880s. Earlier, gifts played a relatively modest role. They soon became an important part of the already-popular holiday.  Women's magazines encouraged making holiday gifts rather than buying them ready-made. Gift suggestions included knitted mittens, embroidered bed slippers and handkerchiefs, stenciled lampshades, and hand-painted button boxes.
Christmas first became a national holiday in 1890 – about the time many Old West End homes also came into being.  In addition to a fresh tree, sideboards, mantles, banisters, and other wooden surfaces were often covered with fresh evergreen garland.
Victorians revived the centuries-old custom of singing carols to celebrate the season, which included adding new life to the 400-year-old song "The First Noel." They not only went door to door singing for friends and neighbors, but they also enjoyed carols in parlors at home and during beautiful candlelit worship services in local sanctuaries.
In 1897 an eight-year-old girl named Virginia wrote to the New York Sun asking if her friends, who doubted the existence of Santa Claus, were right. An editor at the newspaper responded by publishing an unsigned editorial – now the most famous editorial ever printed.
The second paragraph is often quoted:
Yes, VIRGINIA, there is a Santa Claus. He exists as certainly as love and generosity and devotion exist, and you know that they abound and give to your life its highest beauty and joy. Alas! how dreary would be the world if there were no Santa Claus. It would be as dreary as if there were no VIRGINIAS.
This eloquent editorial confirming the existence of Santa Claus seems a fitting conclusion to a century that began with modest Christmas observances and ended with the foundations of the modern Christmas season firmly intact.