In July of 2001 Erik and Val-Rae Christensen packed up their two children, two cats and a greyhound and began the drive from Seattle to Savannah.  It was the lure of history and historic architecture combined with a more affordable cost of living that attracted them.  Ten years and one child later they found their way to Danville.
Erik had taken a job with Virginia Prosthetics managing their satellite office in Martinsville.  Martinsville, however, was lacking the sort of charm they were looking for.  There were few houses available and the town seemed depressed and struggling.  Nearby Danville held a little more hope with its impressive collection of historic houses, and so they rented a house on Sutherlin Avenue while they searched for something they could buy.
"We put offers down on a dozen houses at least," Erik says, "but each one, for whatever reason, fell through."  They began looking elsewhere, in Forrest Hills and around Averett University, even out in the county, but the more they looked elsewhere, the more they realized they wanted to stay in the Old West End historic district.  Having revitalized two houses already, Erik was looking forward to something that was move-in ready.  Val-Rae was looking for another project.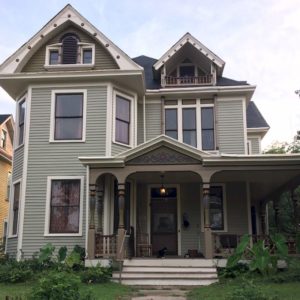 And then one day a sign appeared for an estate sale in the yard of 134 Sutherlin Avenue.  Val-Rae went to the estate sale, not to buy anything, but to see the house.
"I had goosebumps the moment I walked in," she says.  "I knew it was going to be ours."  But first they had to wait for the foreclosure process to finish so that it could go on the market.  The moment it did, they made an offer.  The next morning, an inspector showed up at the house they were renting.  "It was he who delivered the news that the house we were staying in had been sold.  We had thirty days to move out."  Considering all the disappointment they had suffered so far, it seemed like a leap of faith to pursue something that needed so much work, but they took it as a sign.  Three and a half weeks later, the house was theirs.
The home at 134 Sutherlin was built in 1897 by Powhatan Fitzhugh Conway (credited for building the Masonic Temple), chief executive of the Danville Lumber & Manufacturing Company.  He and his wife lived there for seven years before it was sold to a photographer, Oliver Cole, in 1904.  In 1916 Henry and Elsie Day bought the house and it stayed in the family until Mrs. Evelyn Day died in 2012.
Erik and Val-Rae are now divorced, but they still work together raising their children and finishing the house.  After spending the last year helping some friends prepare their house for sale, Val-Rae, a writer, yoga instructor, and historic home restorer with a degree in Interior Design, has begun searching for her next project.  She thinks she's found it, too, but she's not saying much about it just yet.  Perhaps it'll prove the making of another post.
[Editor's note:  Val-Rae is the author of many of the articles included in the Old West End Gazette and this blog.  She is also a published novelist with titles including Of Moths and Butterflies, Cry of the Peacock, and Gods and Monsters as well as a novella and a collection of short stories.]