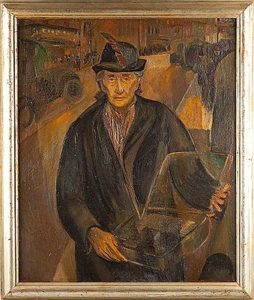 Harriet Fitzgerald was first introduced to the world by her dear friend, the author and essayist Julian R. Meade. It was his account of her in I Live in Virginia that her direct, straight-forward, and truth-seeking ways were first introduced to the world at large.
Harriet was born in 1904 to Harrison Robertson and Ida Lee Flippen Fitzgerald. Her father, president of Dan River Mills, had followed in the footsteps of his own father, Benton Thomas Fitzgerald, who had reigned at the same helm years before.
Harriet's studies began at Stratford Hall and then Randolph Macon Women's College in Lynchburg before moving to New York where she studied at The Art Student's League for two and a half years, after which she went to Europe, where she spent some time studying in museums and galleries. Harriet, ever a humanist, returned home during the Great Depression hoping to do something for those who suffered during the period of financial hardship, including those in her father's mill.
When a strike broke out in September of 1930, Meade, whose writing skills had already earned him some acclaim, was asked by the United Press to cover the events. The assignment meant that he needed to look at the subject from a truly objective point of view. For help with that, he went to his dear friend Harriet.
Although Harriett's natural devotion to her father might have kept her from looking at this quarrel with the same discernment and tolerance she had in most matters, she was too intelligent to close her mind entirely to the workers' story.
That September evening he got into his car, drove the short distance from his home on South Main Street to hers at 118 West Main, bravely breached the men hired to stand guard over the house, and asked his dear friend to put down her painting brushes for an hour and go out for a drive with him so that they could talk together about the events that were creating such divides in their home town. He put the matter to her from his perspective, and she did the same for him.
She proceeded to give me these facts as we returned to her automobile and drove homeward through the autumn dusk. Some of her statements in defense of the mill policy were startling and I tried to listen with open mind, hoping that we might agree in the end. … And in truth I knew that her attitude toward this trouble, in spite of the fact that she was the mill president's daughter, was remarkably impartial: it was really a pity, I thought, that she could not have displaces some of the salaried executives to whom all Union sympathizers were Communists in need of gallows.
The strike came to an end in January of 1931. Four weeks later, Mr. Fitzgerald suffered a heart attack. "the man who had risen from office boy to the presidency of the South's largest cotton mills and the presidency of the American Cotton Manufacturers' Association had died suddenly of angina pectoris which, according to his doctors, was aggravated by recent months of mental anguish and physical strain."
Harriet remained at home for two more years before returning to New York. It was there that she began to truly earn a name for herself as an artist. In 1938, she won a competition sponsored by the American Artists' Congress. The prize: ten of her paintings were to be hung in a three-man exhibition at the American Contemporary Art Gallery in New York. That showing led to other exhibitions, which eventually led to her fame and recognition as a painter of realistic expressionism, an "analytical artist of intense feeling."
Inspired by the philosophy taught her by her maternal grandmother, and perhaps by the pain of loss she had experienced as a young woman—loss which included the death of her good friend Julian Meade in 1940—her paintings are full of warmth, intensity, and wisdom. She saw art as a "means of self-discovery." Her fame carried her into the lecture halls of colleges and universities across the country, where she shared her wisdom and her passion.