The John H. Schoolfield House at 944 Main Street was built in 1884 by his friend and associate Thomas B. Fitzgerald.  Fitzgerald was a well-known and respected contractor and brick manufacturer.  While Mr. Schoolfield began his career as a tobacconist, he, Fitzgerald and several others, founded Riverside Cotton Mills.  Their company later became Dan River, Inc.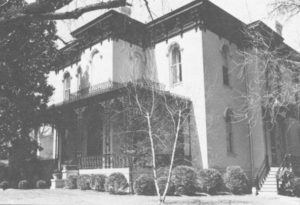 The house was once a textbook example of the Victorian Italianate style, with its bold projecting bays and broad row of bracketed cornices. The signature cornices, however, have been lost to time. Still, it's an important house, owing both to its design and its history.
Schoolfield lived in the house with his wife Susan, their daughter Daisy, son-in-law and tobacconist Archibald Dickenson Keen, and granddaughter, also named Daisy.  John Schoolfield died in 1920, at the age of 82, during the influenza epidemic. When Mrs. Schoolfield died in 1929, the Old West End house passed to the Keens.
"Everybody who knew Arch Keen feels that they have lost a close friend," the Bee reported upon his death in 1938.  "He was intensely human and had a broad understanding of other people, and he was a sympathetic friend to be relied upon wholly in his judgment and advice.  He took his place rather in the wings of the stage of life and an innate modesty held him from the bright light which descends upon leadership. His influence, nonetheless, was widespread.  Of his generosity also it may be said that it reflected his true character in desiring to do good and to be of service to his fellow man without reward."
On April 25, 1938, Archie Keen arrived to work at the Davis Storage and Warehouse Company, in "radiant health" and in his usual "unfailing good humor."  At one o'clock, he descended the basement in the building's platform elevator, a model built, installed, and maintained by the Westbrook Elevator Company. He was on an errand to inspect some tobacco in storage there.  Upon returning from the basement, his head became caught somehow in the workings and his body pinned between floors.  He was found by one of the workers there, who called the police and ambulance.  But it was too late. Mr. Keen's death came as a shock and a sudden and profound loss to the city and all who knew him.  He had formerly served as president of the Danville Tobacco Association.  He was also chairman of the board of trustees of the Main Street Methodist Church.
Shortly after the death of her husband, Mrs. Daisy Keen, Schoolfield's daughter, sold the house to Dr. Walter McMann, a Danville physician.  Dr. McMann and his family lived in the house, and, after some renovating, moved his offices there as well.
Irony has had its way in the home's history, for it was Dr. McMann who provided Johnny Westbrook the space to house his Natural History Museum in the 1950's and 60's.  Johnny Westbrook was the son of John Westbrook Senior, president of the Westbrook Elevator Company.