Algernon Sidney Buford was born in 1826 in Rowan County, North Carolina, though to Virginia parents.  Nearly all his life was spent in Virginia – first in Chatham, then in Danville and Richmond.
His primary education was given him in a school taught by his father.  It was also his father who gave him a thorough practical knowledge of agriculture.  Working as a teacher for two years, Algernon saved his earnings to study law at the University of Virginia.
He began his law practice in Pittsylvania County, but soon relocated to Danville for better opportunities.  In addition to his legal work, he became owner and editor of the Danville Register from 1852 to 1854.  He used that platform to oppose the completion of the Richmond and Danville Railroad.  Some speculate that he had an interest in the competing Roanoke Navigation Company.
His law degree and newspaper ownership led naturally to politics.  From 1853 to 1854, Buford served in the Virginia legislature for Pittsylvania County.  He declined to stand for reelection.
In 1854, Buford married Emily Townes, sister of fellow legislator George Townes.  Townes was married to Eliza Tunstall, sister of legislator Whitmell P. Tunstall.  It was Tunstall who worked so long and hard to charter the Richmond and Danville Railroad, beginning in 1838 with approval in 1847.  It may have been his marriage that caused Buford to drop his objections to the railroad.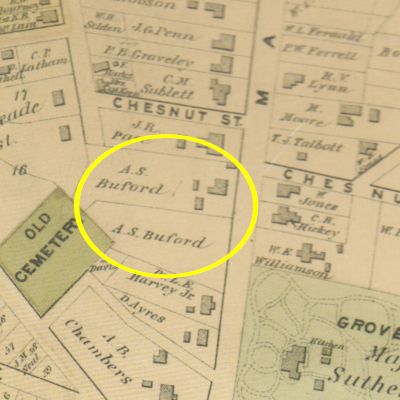 Buford acquired two parcels of land from his brother-in-law Townes in 1857 (see map at right).  On these three acres he constructed a new home, stables, and a school or office building under a large oak tree.  That tree stands in the front yard of 912 Main Street today.
After the passing of the ordinance of secession in the spring of 1861, Buford enlisted in the Army of Northern Virginia.  However, in the fall of 1861, the people of Pittsylvania again elected him to the house of delegates where he served until the end of the war.  While a member of the house, Governor John Letcher commissioned him lieutenant-colonel by brevet for his support for soldiers in the field.
Immediately following the war, Buford was called to head the Richmond and Danville Railroad.  It was quite the irony that he became president of the road he opposed.  This calling resulted in his move from Danville to Richmond in 1866.
Buford served as president of the R&D for 22 years, expanding it from its original 140 track miles to a system extending some 3,300 miles in Virginia, North Carolina, South Carolina, Georgia, Tennessee, Alabama, Mississippi, Arkansas, and Texas.  It formed the basis for the Southern Railway System created in 1894.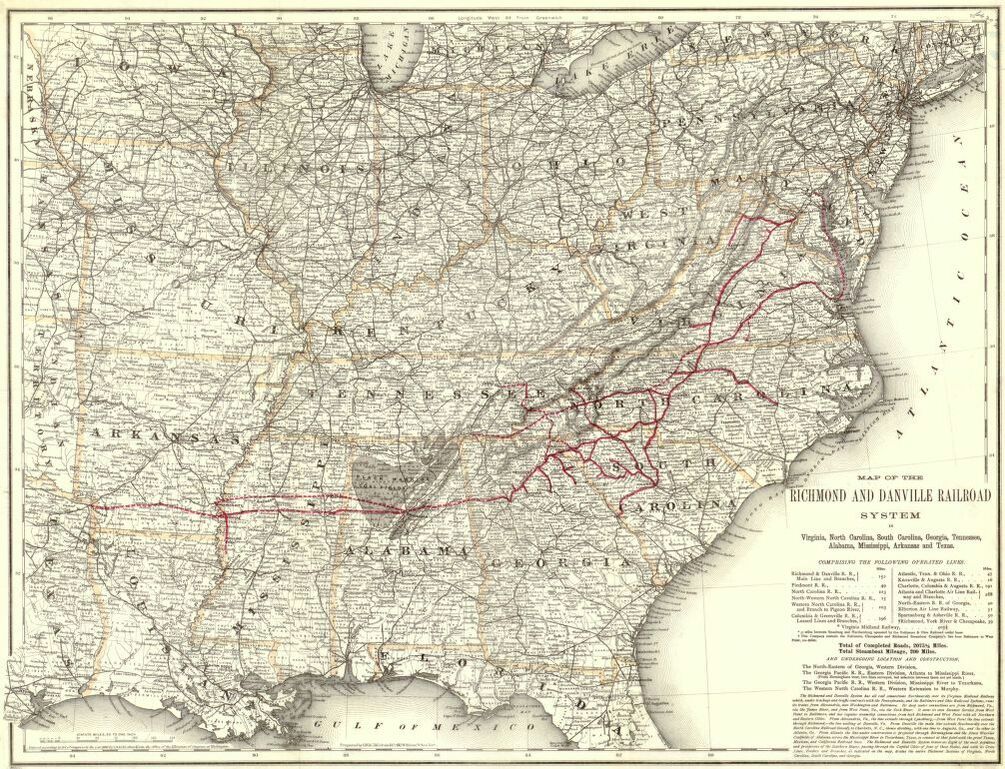 Having no further need for his Danville property, Buford subdivided it into city lots and sold them to wealthy Danvillians.  Five mansions sit on that property today.
In his retirement, Buford became one of the most active members of the Virginia Agricultural and Mechanical Society, serving as its president for four years.  In addition, in 1893, he headed the Board of Managers for the Virginia's exhibit at Columbian Exposition in Chicago.  With the support of Women of Virginia, he caused constructed of a full-size replica of George Washington's Mount Vernon (shown below).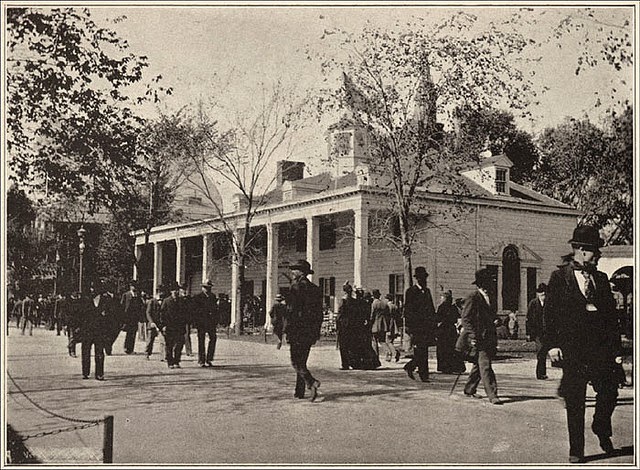 Colonel Algernon Sidney Buford died in 1911 after a fall in his Richmond home.