Work began this week on a partial rehabilitation of the cottage at 817 Pine Street. Under contract with the City of Danville, the intent is to maintain the existing style and design of the roof and front porch while repairing and replacing damaged or missing members. The aluminum cladding will also be gently washed to improve the home's overall appearance.
A 2015 assessment by Solex Architecture reported that the home was in overall fair condition. The major issues were the framing and support of the rear addition and improperly repaired fire damage to the roof structure. Since that time, the porch framing, deck, and entry stairs deteriorated further.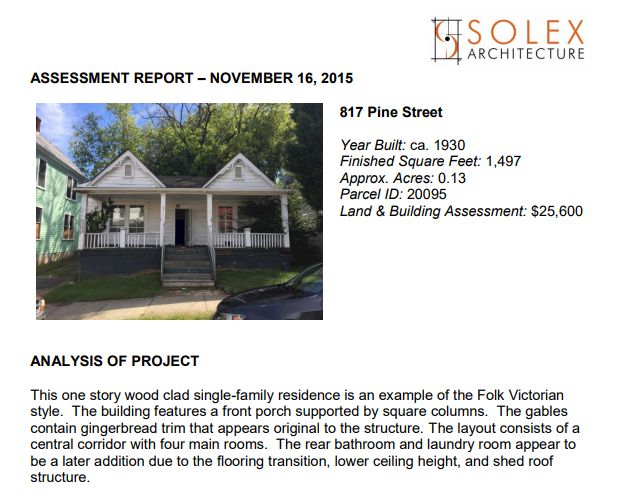 The present project calls for removal of the roof and its decking so that the roof can be properly support. Inadequate 2x4s spaced 24 inches on center and the ridge beam will be replaced. Slate-colored architectural shingles will replace the present deteriorated shingles. Fascia boards will be repaired or replaced and new gutters and downspouts will be added. The porch will be resupported and redecked, the stairs replaced, and the screen door updated.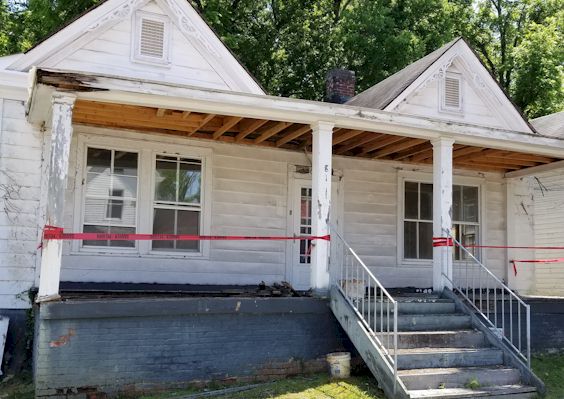 Issues with the rear addition are not being addressed in this project as a new owner might configure that area of the home differently.
The Gazette has reported on this home and other Pine Street cottages before, including their early occupants.