On Thursday, February 13, 2020, the home at 209 Jefferson Avenue was demolished.  It is always sad to lose a tooth in the Old West End smile.  This house was the only building in Danville attributed to Valentine J. Clutter, an architect who also designed Danville's first courthouse that survived from 1873 to 1926.
This property was posted for demolition over a year ago but was included on the Old West End website to see if there might be an interested buyer.  For over a year, no on showed an interest — perhaps because of its close proximity to the neighboring apartment building.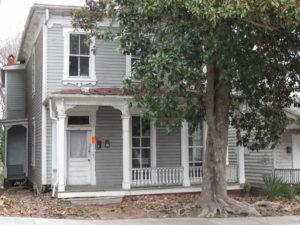 The house was built between 1877 and 1880.  It was well after 1920 when the adjoining cottage at 215 Jefferson and the apartment building at 205 Jefferson were constructed.
Perhaps its first owner was P. L. Rendelman, a merchant tailor, who lived there in 1880 with his wife Georgia and son Wilbur. Georgia, then a widow, and son Wilbur remained into the 19-teens.
The house became a rental property until it was acquired in 1931 by Savannah Haley Meadows, widow of Branch Meadows.  She lived there with her daughter Zellie and sometimes granddaughter Mary until her death in 1954.
For much of that time, Mrs. Meadows rented the second floor to the Shelton family – Cooper, his wife Linwood, son William, and daughter Sybil.  Mr. Shelton worked in the hosiery mill.  Son William graduated from Eastern Carolina Teachers' College, was a pro baseball catcher in the early 1940s, and joined the Army Air Corps in 1943.  William participated in four World War II campaigns – African, Sicilian, Italian, and Chinese – and was awarded the Distinguished Flying Cross.
In later years, the home always served as a duplex rental and ended worse for the wear.  209 Jefferson Avenue will be sadly missed.