The Haskins-Meade House at 1050 Main Street was built around 1893 by and for Robert Haskins and his wife Mary Haskins. Born in 1863, Mr. Haskins was a representative of the Imperial Tobacco Company, which position eventually took him to Richmond. The house was sold just four years after construction to E.P. Beadles.
Dr. Beadles was a much respected local dentist whose expertise in the field was appreciated fellow dentists far and wide. Several references to him are made in papers throughout the South noting the significance of his writings and research, which widely read and studied. Dr. Beadles was also something of an artist. In 1887 he copyrighted the "Valentine's Wrapper", a collector's edition cigarette wrapper for the Wemple, Ellerson tobacco company. The wrapper was somewhat controversial as it featured a heart illustrated like a map, upon which the Seas of Love charmingly surrounding the Isle of Man, but which also indicated the not so charming regions of the female heart that included Gossip, Malice, Self-Will, Contentiousness, and the Desire to Rule.
In 1915 the Beadles relocated to the Chesapeake Bay and the house was sold to Randolph Meade. Mr. Meade was the brother of Edmund Baylies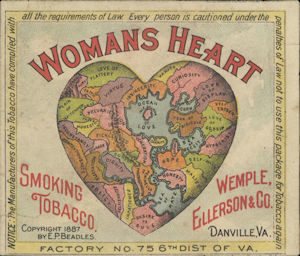 Meade, and uncle of the famous writer and author, Julian R. Meade, whose book I Live in Virginia (an annotated reprint of this book is in production) provides an intriguing account of life in Danville in the 1930's, including his work for The New York Herald Tribune and for The United Press International chronicling the textile strike.
Mr. Randolph Meade also worked in tobacco as a leaf dealer for John E. Hughes company before breaking off to form the Randolph Meade Company. Randolph and his wife Helen James Meade lived in the house until financial problems forced them to put the house up auction and it subsequently became the property of First National Bank of Danville. The Meade's then took up residence in the Hotel Burton, where he died suddenly of a heart attack in May of 1935.
For the next twenty years the house was owned by Richard R. Patterson and his wife Mamie Thames Patterson. Mr. Patterson also worked in tobacco as a leaf dealer for Tobacco Growers' Co-operative Marketing Association.
It was probably in the 1940's or 50's that the enclosed front porch was added and shortly thereafter the house had its first commercial use, as Mrs. Patterson ran a ten and fifty cent shop from the premises. Mr. Patterson died in 1964 and Mamie followed him two years later. The house stood empty for several years until, in 1970's, Wayne Brumfield occupied the premises and ran a photography business out of it. The building has changed hands several additional times, including serving a part of Danville Urologic Clinic and for a short stint as a fusion cafe and sushi restaurant.
This beautiful home-turned-business is presently for sale. The 5,200 square foot building is zoned for commercial use and is being sold by Elizabeth Ware at Ramsey Yeatts and Associates. Asking price, $350,000.  Update 1/2021:  King Cropp coming to the Old West End.
*"A Woman's Heart" cigarette wrapper image provided by David Corp. A jigsaw puzzle of this image is available through Danville Historical Society, price $15. Contact David Corp at davidc522@comcast.net for more info.